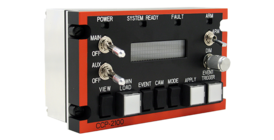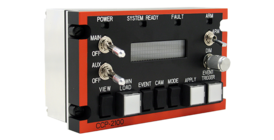 The CCP-2100 is a multi-function camera control panel that can control up to 64 cameras.
Features
Controls up to 64 distributed cameras through a camera network manager (nMGR-2000)
Allows the user to select up to 32 preprogrammed even groups
Alphanumeric display for status and configuration
Provides switches and buttons for controlling Power, Arm, Event Trigger, Download, Stop, and Apply changes on the camera system
Camera and Mode switch controls are available to fine-tune settings for cameras within an event
Provides LED indicator feedback for camera readiness and faults from the camera system nMGR-2000-1 Network Manager as well as textual information via the alphanumeric display
Provides 100BASE-T to the nMGR-2000 for camera control and status
Front panel dimmer control
Built-in website for device administration
Programmable using TTCWareTM
RS-422 PCM clock/data system status output
Applications
Flight test instrumentation
Camera control panel
High-speed camera network cockpit management
TTC CCP-2100 High-speed Camera Controller
The TTC CCP-2100 is a multi-function camera control panel that can control up to 64 cameras. Camera setup can take place for an individual camera, for up to 32 event groups of cameras, or for all cameras. Up to 32 preprogrammed different event groups can be selected by using the Event button. The CCP-2100 unit provides switches and buttons for controlling power, event trigger, download, stop, apply, and arm on the camera system. It also provides LED indicator feedback for camera readiness and faults from the camera nMGR-2000-1 Network Manager. The CCP-2100 has a front panel character-based display that provides system status and control feedback to the user.
The CCP-2100 has an IRIG-106 Chapter 4 PCM fixed format frame generator that provides PCM clock and data to an external PCM decommutator. This data includes camera system real-time status that can be recorded for post-flight analysis or transmitted for ground-based real-time monitoring. Two isolated discrete active low outputs and two non-isolated discrete inputs are provided. The CCP-2100 can be configured over 10/100BASE-T Ethernet or by using the RS-232 / RS-422 serial port.
The Need for Speed: Using Photogrammetric Analysis with High-Speed Cameras in Flight Testing Applications
Flight test engineers encounter situations where they need to use photogrammetric analysis to determine how objects, surfaces, and mechanical systems perform. This typically requires capturing images at high speed from multiple angles. Read this white paper to learn more about high-speed cameras and how they can provide users with the ability to conduct in-depth, quantitative analysis of their high-speed images.
Aerospace Instrumentation Brochure
Modern aerospace instrumentation systems can be highly complex, and it can be difficult to know how to meet program needs. It's not unusual for requirements to change during a campaign and cause significant delays, and data must be captured reliably no matter what – otherwise expensive additional flights will be needed or months of program data could be lost. Read our brochure to learn how you can reduce your risk with commercial off-the-shelf (COTS) solutions.
Read the Brochure