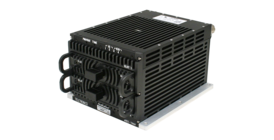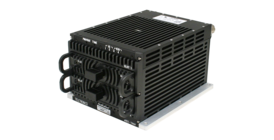 The nREC-7000 is a high-speed network recorder for use with flight test data acquisition and multiplexing units, recording on two 10GBASE-SR ports and two 1000BASE-T ports. 
High speed data recording

Up to 2200 MBps of sustained data recording
10G Acquisition and recording at full line rate

Record multiple data formats simultaneously

DARv3, IRIG-106 Chapter 10/11, IRIG-106 TmNS, PCAP

Supported File Systems
Data ports

Two 10GBASE-SR ports with IEEE1588 v1/v2
Two 1000BASE-T ports with IEEE1588 v1/v2
TTC nREC-7000 10GbE Airborne Network Flight Test Recorder
The nREC-7000 is a high-speed network recorder for use with Flight Test Data Acquisition and Multiplexing units. The nREC-7000 accepts data for recording on two 10GBASE-SR ports and two 1000BASE-T ports that can store data at sustained speeds of up to 1,000 MBps per 10GbE port. The recorder is also capable of acquiring, formatting (using PCAP, DARv3 or IRIG-106 Chapter 10/11), and recording 10GBASE-SR Ethernet at line rate. The second 10GBASE-SR port can be used as an acquisition or mirror port from the primary 10GBASE-SR port.
The nREC-7000 provides simultaneous data recording of multiple formats, such as DARv3, PCAP, IRIG-106 Chapter 10/11, and NFS. Chapter 10/11 data can be acquired from an external multiplexer using Chapter 10/11 UTH v2, and/or internally generated Chapter 10/11 from the 10GBASE-SR input port(s).
All Ethernet ports support IEEE-1588 v1/v2 time. The nREC-7000 also accepts IRIG-B AC/DC time. The recorder houses two hot-swappable cartridges with multiple Solid State Drives (SSD) per cartridge (sold separately). User can select that each SSD records to a different data format, or concatenate multiple SSDs for a larger recording volume. The RMM-70XXC cartridge is available with different storage capacity. Current Removable Memory Module (RMM) are available at 3 TB or 6 TB storage.
The nREC-7000 is cockpit mountable using standard DZUS rail (nREC-7000Z) or standard base plate flange mounting (nREC-7000). Recorder control and status is achieved using RS-232/422, GbE port, or discrete signals.
The nREC-7000 accepts +28VDC power and uses MIL-38999 connectors for general I/O. The nREC-7000 is MIL-STD-461-compliant. The recorder is compatible with IP, TCP, UDP and SNMP protocols.
2019 MAE Innovators Silver Award Winner - read more
Modern, High-Speed FTI Recorder and Switch Requirements and Use Cases
Flight test instrumentation (FTI) architectures are increasingly migrating to airborne "network" systems, comprised of distributed sub-systems of data acquisition, processing, and recorders. One result is that the network switches forming the network switch fabric for these architectures become more critical, as do the FTI recorders that must acquire large amounts of data from different data sources in formats suitable for ground processing. This white paper discusses the factors influencing switch and recorder unit design for a distributed FTI system and a single recorder alternative.
Aerospace Instrumentation Brochure
Modern aerospace instrumentation systems can be highly complex, and it can be difficult to know how to meet program needs. It's not unusual for requirements to change during a campaign and cause significant delays, and data must be captured reliably no matter what – otherwise expensive additional flights will be needed or months of program data could be lost. Read our brochure to learn how you can reduce your risk with commercial off-the-shelf (COTS) solutions.
Read the Brochure