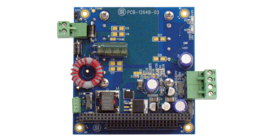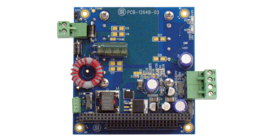 The ACS-5161 is a galvanically-isolated dual-output DC/DC power converter in the PC/104 form factor. 
Function
Isolated PC/104 DC-DC Converter Vehicle Power Supply
Voltage Input
Vin: +18V to +36V DC Input Range
Transient and Reverse Voltage Protection
Input Protected with Automotive Transient Voltage Suppressor, 6600W 10/1000us Ideal for 24V Battery Installations
Voltage Output
VOut: +5V, +12V DC
5V Overload Protected; Overtemperature Shutdown @ 105°C for Base plate
Power Output
Output Power: +5V @ 12A (20A peak), +12V @ 2.5A
60 Watt Combined Output Power (-40°C to +85°C)
100 Watt Peak Output Power up to +70°C
Note: Derating occurs if not structurally heatsinked
Isolation
Galvanic Isolation Input-to Output and Input to Base-Plate 1500V
Galvanic Isolation Output to Base-Plate 500V
EMI Filter
Onboard Input Filter Designed for Compliance to MIL-STD-461, CE, and EN-55022 class B Conducted and Radiated Emissions as Part of Overall System Design
Status
LED Status Indicators for Power Outputs
Shutdown
Remote Shutdown Support (SHDN-jumper)
Ordering Information
| Part Numbers | Description |
| --- | --- |
| ACS-5161-00 | ACS-5161, PC104 60W Isolated Power Supply, Vin=18-36VDC, Vout=+/-5V, +12V, -40/+85C |
ACS-5161 PC104 Power Supply
PC104 60 Watt Isolated DC/DC Supply, Vin= 18-36VDC, Vout= +5, +12VDC
The ACS-5161 is a galvanically-isolated dual-output DC/DC power converter in the PC/104 form factor. Providing up to 100 watts of peak power (minimum 60 watts continuous at extended temps if not structurally heatsinked), the ACS-5161 features a special mechanical design hardened for extreme temperatures and high levels of shock and vibration, making it ideal for aircraft, rail, ship or industrial installations. All heavy or big components are securely fixed to the board for shock/vibration resistance.
Intended to be bottom board of a PC/104 card stack, the power supply incorporates a DC/DC converter module placed on its bottom side, so that it can be structurally heatsinked to a thermally conductive base or enclosure wall - to enable reliable extended temperature operation (-40C to +85C) without any active cooling (fanless). The output voltages are driven into the PC/104 bus and can also be accessed from easily removable terminal blocks on the side of the module. Indicator LEDs show the status of the power outputs. The power supply can be switched ON/OFF remotely with a switch or ignition key of a vehicle.
Input protected and filtered, the ACS-5161 is ideal for battery-operated +24V DC nominal systems. It offers reverse protection up to -45VDC and short-term tolerance of spikes up to 50V (1ms). It also supports configurable timing for power sequencing, as well as remote shutdown. The onboard common mode input filter and protection circuitry is designed to meet the requirements of the EC low voltage directives for CE compliance EN55022-B and EN61000 and MIL-STD-461 for conducted and radiated emissions. Integration of the filter stage on-board makes system integration easier, eliminating external pre-filter boards. Emissions are reduced by optimal board layout, as well as EMI filtering of all the outputs of the board including the power that is supplied into the PC/104 bus.
Advanced capabilities to ensure the success of your program's system development and integration
From systems engineering to program management to lifecycle and configuration management, Curtiss-Wright offers a lengthy list of advanced capabilities to aid in program success. 
Get the Complete List of Advanced Capabilities