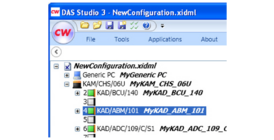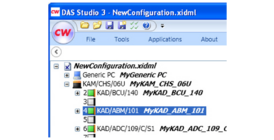 DAS Studio 3 software allows you to configure DAUs, network switches, recorders & ground stations in an integrated environment.
 
Features
Discovers, configures, manages, and programs data acquisition units (DAUs), recorders, switches, ground station boards, and third party equipment
Functionality can be extended through external plug-in applications
Supports the open metadata standard
Applications
Flight Test Instrumentation (FTI)
Aircraft monitoring
Flight data acquisition for flight recorders
DAS Studio 3 Setup Software
Setting up data acquisition systems can take a lot of time and effort, particularly as many systems today are growing larger and larger. Managing thousands of channels of data over dozens of data acquisition units, generating data frames for transmission, managing pre-flight checks, and so forth, can become a serious time drain and an easy source for errors.
DAS Studio 3 software suite simplifies and speeds the process of setting up data acquisition for complex FTI, space data handling, and aircraft usage monitoring applications. The software provides a single solution for intuitively configuring DAUs, recorders, switches, and ground-station equipment.
The software is optimized for multi-core platforms with multi-threaded architecture and parallel processing. High performance means that system validation and programming occurs in minutes or even seconds. The user interface is simple and easy to learn with data-rich tables and a consistent look that cuts through the complexity of configuring a data acquisition system.
Using integrated tools such as Discover, Status, Verify and Program, DAS Studio 3.4 intuitively leads flight test engineers through the configuration process. The software enables any configuration errors to be detected early in the configuration process and displayed clearly. It includes automated tools and wizards that enable users to quickly and easily perform otherwise time-consuming tasks such as hardware discovery, frame building, bridge balancing, and pre-flight checks. DAS Studio 3.4 also provides integrated tools for validation, status, programming, and Quicklook.
It has several value-added features such as:
Support for powerful "Smart Placement" of parameters for Inter-Range Instrumentation Group (IRIG)-106 Chapter 4 PCM.
TimeSeeder: Sets the time in modules with clocks
Transmission Assistant: Used to build frames for transmission
PCM Discrete Parameter Builder: Saves bandwidth by holding sections of several other parameters
Power Calculator: Shows a breakdown of power usage in a chassis
Serial Number Synchronizer: Verifies and updates the configuration's serial numbers from the hardware
Aerospace Instrumentation Brochure
Modern aerospace instrumentation systems can be highly complex, and it can be difficult to know how to meet program needs. It's not unusual for requirements to change during a campaign and cause significant delays, and data must be captured reliably no matter what – otherwise expensive additional flights will be needed or months of program data could be lost. Read our brochure to learn how you can reduce your risk with commercial off-the-shelf (COTS) solutions.
Read the Brochure