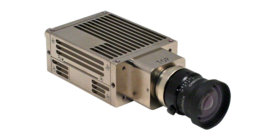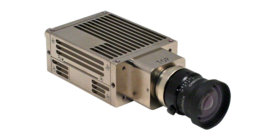 The high-definition HDC-430-1 Ethernet IP camera provides multiple multicast video streams over an Ethernet network.
Features
High definition (720p60 and 1080p30)
H.264 and H.265 encoding
Capable of resolution and frame rate decimation
Ethernet output (HTTP, FTP, UDP) with two simultaneous video streams
Timestamp (SNTP in metadata and overlay option)
Wide dynamic range 
Separate HD-SDI and RS-170A video outputs
Fast auto exposure and white balance
Auto 3D noise reduction and gamma correction
Low latency
28VDC aircraft power
Applications
Flight test instrumentation
De-icing video
High vibration scene - cockpit displays
Aircraft monitoring
Launch vehicle applications such as verifying clean separation of stages and deployment of payloads
Glamour videos for marketing
TTC HDC-430-1 Airborne High Definition IP Ethernet Camera
The TTC HDC-430-1 is a rugged HD Ethernet camera designed for use in internal aircraft applications (for external applications please contact factory) that require either H.264 or H.265 compression. The HDC-430-1 connects directly to any Ethernet switch and can be configured for single, or multiple video output streams. It supports a primary HD (720p60 or 1080p30) stream for recording, a secondary stream for preview display, and a third for telemetry (SD).
The video streams are independently configured for multi-encoding and streaming and feature industry-leading latency. The HDC-430-1 is packaged in an environmentally rugged FTI ready housing with +28V DC power. It incorporates a high-resolution image sensor with Wide Dynamic Range (WDR) imaging that ensures high accuracy by removing over and undersaturation artifacts. The camera's fast exposure quickly adjusts to changing light.
The HDC-430 is ideal for a number of applications including flight test instrumentation, De-icing, cockpit display recording, and aircraft monitoring. It is also well suited to many space applications, where its compact size, low mass, and ruggedness make it appropriate for launch vehicle applications such as verifying clean separation of stages and deployment of payloads for performance and insurance reasons. Its high image quality is also perfect for taking inspiring footage for entertainment and marketing purposes.
Video Compression Quality and Performance for Airborne IP Cameras
The images captured by an IP camera may be viewed from anywhere in the network. In many cases, users can view video footage, listen to audio streaming, and even control the camera remotely. This white paper investigates the key image quality, bandwidth, and latency considerations when designing and operating the FTI devices on an aircraft or vehicle.
Aerospace Instrumentation Brochure
Modern aerospace instrumentation systems can be highly complex, and it can be difficult to know how to meet program needs. It's not unusual for requirements to change during a campaign and cause significant delays, and data must be captured reliably no matter what – otherwise expensive additional flights will be needed or months of program data could be lost. Read our brochure to learn how you can reduce your risk with commercial off-the-shelf (COTS) solutions.
Read the Brochure