The DTS1 and DTS1+ Data Transport Systems provide easy to use, turnkey, rugged network File Servers in Unmanned Aerial Vehicles (UAV), Unmanned Underwater Vehicles (UUV), and Intelligence Surveillance Reconnaissance (ISR) aircraft. The DTS1+ is the next-generation solution for the DTS1 product. 
Key Features
Full disk encryption - hardware and software
NSA CSfC Components List approved
International Common Criteria certified
NATO Approved
ITAR free
Optional MIL-STD-1275 filter
Network-attached storage

Block storage (iSCSI)
Ethernet recording and packet capture (PCAP)
File serving (NFS, CIFS, FTP, HTTP)
Remote boot of network clients (PXE, DHCP)
Includes an Intel® Atom® E3845 Processor E Series processor 
Applications
Deployed network-centric systems 
Mobile data loader 
Remote embedded client boot 
Flight test instrumentation
Unmanned vehicles
Ground Vehicles
DTS1 & DTS1+: 1-slot Rugged Network Attached File Server
For applications that need to protect large amounts of data
The DTS1 is the embedded industry's first commercial off-the-shelf (COTS) data-at-rest (DAR) network-attached storage (NAS) solution that supports two layers of full disk encryption (FDE) in a single device.
Hardware and software full disk encryption
Removable memory cartridge (RMC) for easy transfer of data
Size, weight, and power (SWaP)-optimized
Modern unmanned vehicles, ISR aircraft, and mobile ground vehicles are built around a network-centric architecture. The backbone of such systems is Gigabit Ethernet (GbE), operating at 1.25 gigabits per second. With a network switch (or redundant switches) in the middle of the system, any network-enabled device can communicate with any other similar device. In addition, NAS devices like the DTS1 allow any client to retrieve stored files or save new captured files.
The secure small form factor DTS1 stores and protects large amounts of classified data on helicopters, unmanned aerial vehicles (UAV), unmanned underwater vehicles (UUV), unmanned ground vehicles (UGV), and intelligence surveillance reconnaissance (ISR) aircraft. With the addition of an optional MIL-STD-1275 filter that protects against power supply spikes and surges, the DTS1 is also the first Common Criteria certified NAS, optimized for deployed ground vehicle operations. The DTS1 includes an Intel Atom processor.
Hardware and Software Full Disk Encryption
Having received Common Criteria (CC) certification, the hardware and software FDE layers used in the DTS1 are currently listed on the United States NIAP Product Compliant List, NSA's CSfC Components List, and the International Common Criteria Certified Products List, and the NATO Information Assurance Product Catalogue (NIAPC). Selecting an approved device enables system architects to significantly reduce the time, cost, and program risk associated with developing an approved encryption solution.
Removable Memory Cartridge (RMC)
The rugged NAS is easily integrated into network-centric systems and houses one Removable Memory Cartridge (RMC), which is considered unclassified when in transport. The RMC can be easily removed from one DTS1 and installed into any other DTS1 providing complete, seamless data transfer between one or more networks in separate locations (e.g., from ground to vehicle to ground), providing quick data offloading.
SWaP-Optimized
A NAS device provides SWaP advantages by negating the need for local storage in each computer, display, or management device. These network clients can use the DTS1 to store sensor or maintenance data and retrieve the latest mission and digital map data. Supporting industry standard NAS protocols like NFS, CIFS, FTP, or HTTP, enables the clients to use different operating systems (Linux®, VxWorks®, Windows®, etc.) or CPUs (PPC, Intel®, Arm®, etc.), permitting system design flexibility.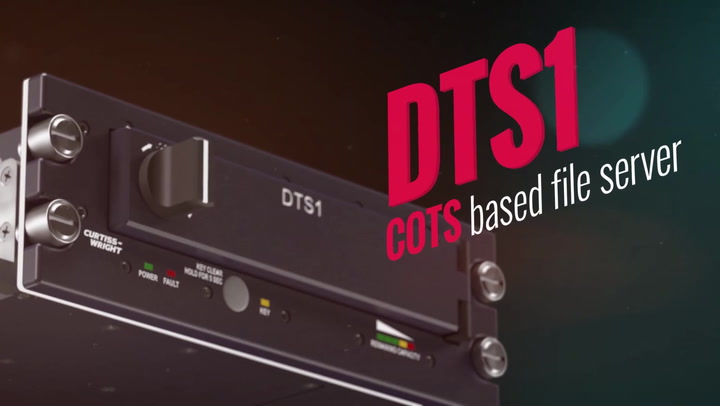 Our Most Popular Data Storage Solution Video
The DTS1 is the embedded industry's first commercial off-the-shelf (COTS) data-at-rest (DAR) network attached storage (NAS) solution that supports two layers of full disk encryption in a single device.