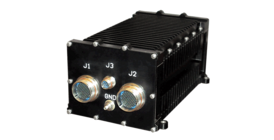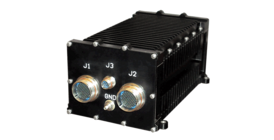 The 3U 1-slot Application Ready MPMC-9310 Embedded System is the smallest COTS mission computer from Curtiss-Wright at 5 lbs for vetronics and avionics applications.
Key Features
Rugged design system
SWaP optimized
Cold-plate cooled or natural convection chassis
EMI filters and gaskets
Supports either VPX or OpenVPX form factors
Supports up to 3 XMC sites
Applications
Mission computer
UAVs
Benign laboratories
Harsh avionics environments
Airborne platforms
Ground vehicle electronics (vetronics)
MPMC-931x Rugged 3U 1-slot Modular Computer
Reduce your program risk and speed your time to market with the MPMC-931x family of 3U single-slot rugged embedded systems. These leading edge, flexible and rugged processing systems can be readily configured to meet the needs of any military or aerospace requirements, from benign laboratory to harsh avionics environments. The MPMC-931x is an integrated mission processing system with hardware and software in a ultra compact 3U form factor and equipped with unprecedented processing power.
The slim profile of the MPMC-931x allows the unit to fit easily into available nooks on any platform making it ideal for space constrained applications such as UAVs, airborne platforms, ground vehicles, and other harsh avionic environments that require a rugged mission computer.
Depending on your system requirements, the MPMC-931x can be configured with a variety of boards from Curtiss-Wright's embedded computing product library including SBCs with Intel, Arm and NXP processors. We also offer system integration and program management services.
System Solutions Brochure
Curtiss-Wright is a technological leader in providing COTS products and open architecture solutions for mission computing, signal processing, graphics, communication fabrics, system and sensing I/O, and chassis products.
Get the Brochure