Embedded Systems Made With MOSA in Mind
Mission computers are the heart of every platform. To ensure your mission success, our embedded computing systems are backed by decades of experience developing C5ISR, vetronics, and program-specific system solutions. Whether you're looking for a modular, small form-factor (SFF) line replaceable unit (LRU) or a scalable VPX system designed to meet your specific requirements, our computing systems are built rugged to perform optimally in the harshest deployed environments on land, in the air, or at sea. Our industry-leading system architects partner with you to meet your system integration and program management requirements. They leverage our comprehensive range of open architecture commercial off-the-shelf (COTS) building blocks or design a unique custom solution when required.
System Solutions Brochure
Curtiss-Wright is a technological leader in providing COTS products and open architecture solutions for mission computing, signal processing, graphics, communication fabrics, system and sensing I/O, and chassis products. Our complete system integration and support services reduce interoperability risks, lowers program costs, and accelerate time to market.
Modular Open Systems Approach (MOSA) Solutions
Explore our solutions aligned to The Open Group Sensor Open Systems Architecture™ (SOSA) Technical Standard, the U.S. Army CCDC C5ISR Center's C5ISR/EW Modular Open Suite of Standards (CMOSS), and more.
Why Open Standards Like CMOSS and SOSA Are the New Normal
Introducing your essential guide to all things MOSA. This white paper explores the MOSA directive, its significance for defense technology, and MOSA-supporting standards like SOSA, CMOSS, VICTORY, GVA, FACE, and OMS/UCI.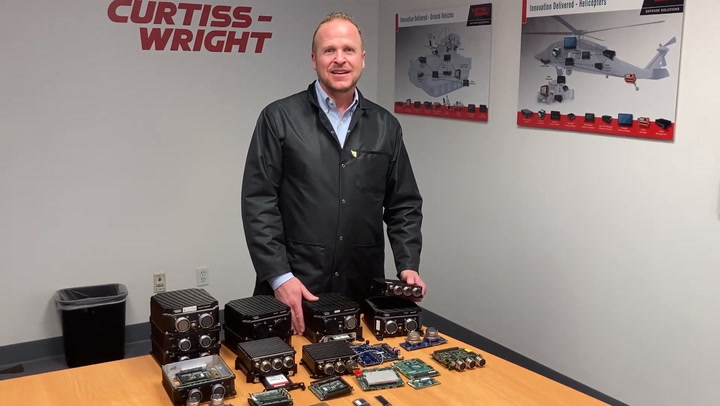 Ensuring Seamless Integration and Future-Ready Scalability
Size, weight, and power (SWaP) is critical for embedded systems, especially those destined for small aircraft or land vehicles. At the same time, these systems must be flexible to interface with the many different legacy or modern sensors, networking devices, and other onboard systems. See how our small form factor mission computers deliver modularity and scalability in a remarkably small footprint.