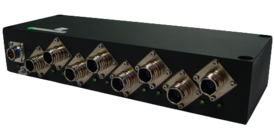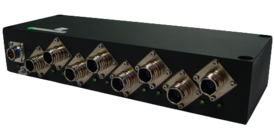 The NET/SWI/006 is an eight-port Ethernet switch designed for operating in harsh environments (six Ethernet DAU and two aggregator ports).
Features
Eight-port, Fast Ethernet network switch with keyed micro-miniature, circular connectors (eight Ethernet ports and one power/ground) with six DAU ports and two aggregator ports
64Mbps throughput
All eight ports are 100BaseTX full-duplex Ethernet links over copper wiring with auto-MDIX supporting straight-through or cross-over cables
Store-and-forward operation
IEEE 1588 Precision Time Protocol version 1 (PTPv1) support with transparency mode of operation
Extended temperature operation (-55 to 105oC)
Live at power-up (static internal routing; no MAC address learning time delays)
Up to two NET/SWI/006s may be cascaded together
Applications
Airborne interconnection for data acquisition units and network data recorders in an Ethernet environment
NET/SWI/006 Ethernet Switch
8 port Ethernet Switch (unmanaged, 6 input ports, 2 output ports)
The NET/SWI/006 is a 100BaseTX Ethernet switch designed for operating in harsh environments. The NET/SWI/006 comprises six full-duplex 100BaseTX Ethernet DAU ports and two full-duplex 100BaseTX aggregator ports. Up to six DAU and two sink devices, such as a recorder and a PC, can be connected to the switch using CAT5 copper cabling. The source data is forwarded to the data sinks through the two aggregator ports. 
The NET/SWI/006 has a store-and-forward switching architecture; incoming Ethernet frames are stored before they are forwarded out on the aggregator Ethernet ports. Both 802.3 and Ethernet II 802.1Q tagged frames are supported. The maximum sized and minimum sized Ethernet frames processed by the NET/SWI/006 are 1,522 bytes and 64 bytes respectively.  
The NET/SWI/006 transparently supports PTP messages where the PTP traffic is received from the PTP Grandmaster through the aggregator port 1. This provides a greater degree of synchronization accuracy than would be achieved using a non-1588 switch, even under heavy network traffic conditions.