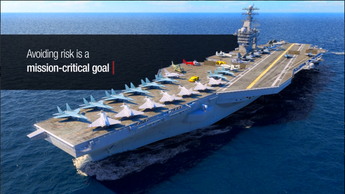 Integrated Enclosures for Modern Naval Systems
Avoiding risk is a mission-critical goal for both members of the military as well as the defense contractors who support them. Program risk, cost risk, schedule risk, and technology risk can destroy budgets and negatively impact delivery timeframes. By partnering with world-class solution providers, prime contractors can focus their resources on supplying the military with the capabilities it needs to safely complete new missions.
Value-Focused Approach to Naval Equipment Enclosure Systems
Curtiss-Wright provides a "one-stop-shop" for complete integrated enclosure solutions, from specification to the delivery of fully qualified equipment. Our business approach leverages the advantages of the best commercial technology and practices and tailors them to the needs of the defense industry. By leveraging commercial-off-the-shelf technology and a modular approach to equipment enclosure construction and payload integration, we offer more vertical integration capability, design maneuverability, better affordability and lower technology and schedule risk.
These shipboard equipment enclosures protect mission systems from salt water and other ingressions, shock, vibration, and electromagnet interference (EMI) while providing security and efficient cooling for long-term reliability. They are built for specific applications requiring in-house system architects to routinely engage with in-house packaging design teams to ensure compatibility and functionality.
Increase ROI with Trusted Enclosure Design
New efficient approaches to cabinet and console design, fabrication, integration, and qualification is enabling prime defense contractors to equip the Navy with better technology while increasing ROI.
Add More Functionality While Reducing Program Cost and Risk
To maximize your program value, Curtiss-Wright has developed technologies, capabilities, and business solutions aligned with your needs. Our capabilities offer a versatile, easy-to-manage extension to your design, manufacturing, qualification, and integration capabilities creating an efficient, low-risk environment for you to focus on your primary sources of value creation. Curtiss-Wright 901D portfolio of capabilities, services, and products leverages the latest commercial technology and practices and aligns them with your program requirements. Using COTS technology and a modular approach to equipment enclosure construction and payload integration, we offer scalable integration capability, greater design flexibility, and affordability with reduced technology and schedule risk.
How We Solve Complex Enclosure & Integration Challenges
Our 901D portfolio of enclosures and integration services are named after and are designed to exceed the requirements of MIL-DTL-901 for shipboard machinery shock testing. This suite of capabilities is aligned to Naval and other highly ruggedized applications deployed in harsh military environments. Learn more about how we solve complex integrated enclosure challenges.
Learn More
Integrated Engineering & Design Services for the Toughest Missions
Curtiss-Wright enclosures are, first and foremost, designed to offer the highest levels of mechanical and environmental protection for the equipment they house. All of our systems are built from the ground up using components and assembly approaches that are intended to meet or exceed MIL-DTL-901 (shock) and MIL-STD-167 (vibration) for mission-critical Naval and other harsh environmental applications.
We achieve high MIL-DTL-901 first-pass rates by holistically evaluating new functional specifications for performance, functionality, and dexterity against MIL-STD requirements, ensuring the enclosures and systems we produce are qualification ready. Using our extensive in-house thermal, structural, environmental, and EMI/EMC engineering expertise gained over hundreds of Naval programs, we systematically identify and mitigate the technical risks associated with a new functional specification.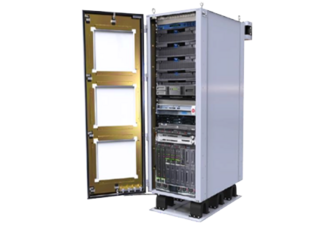 The Right Level of Payload Integration
Scalability from prototype to full-rate production with the right level of integration are critical to ensure reliable product availability. Curtiss-Wright offers graduated levels of enclosure integration from primary cooling, power, and distribution systems to advanced and modified original equipment manufacturer (OEM) equipment payload integration.
The Low-Risk Approach to MIL-STD Qualification
Qualification is expensive, especially regarding schedule impact if the equipment under test fails and needs to be re-engineered. High-impact shock qualification per MIL-DTL-901 using COTS payload equipment is often identified as a program risk. As such, the assurance of qualification approval is critical. Curtiss-Wright's engineering and test teams have gained deep electromechanical, shock, and vibration expertise across many Naval programs. We have distilled this knowledge into an approach that de-risks shock testing with a robust engineering phase that assesses system fragility that lessens equipment shock, ensuring system survivability.
Our capabilities extend into acoustic, shock, vibration, environmental, and emissions testing and qualification. Going beyond requirements for initial system qualifications, Curtiss Wright has invested in test capabilities for repeated production unit acoustic signatures.
Our Qualification Test Procedure (QTP) Domains
MIL-DTL-901 & MIL-STD-810 for shock
MIL-STD 167-1 for vibration
MIL-STD 461 for EMI
MIL-STD 108 for environmental protection (drip)
MIL-STD 740 / MIL-STD 1474 for acoustic noise
MIL-STD 810 for temperature and humidity