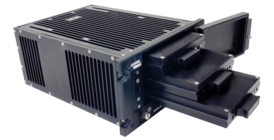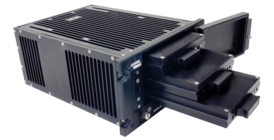 The DTS3 rugged Network Attached Storage (NAS) File Servers (FS) are easily integrated into netcentric systems providing an easy to use, turn-key, rugged encrypted Network File Server.
Key Features
Network Attached Storage (NFS, CIFS, FTP, HTTP) 
Block Storage (iSCSI)
Ethernet recording and packet capture (PCAP)
Net booting clients (PXE, DHCP)
2-layer encryption (HWFDE + SWFDE)
Disk Partitioning
Applications
Deployed network-centric systems 
Mobile data loader 
Remote embedded client boot 
Flight test instrumentation 
DTS3: 3-Slot Rugged Network Attached File Server
The Data Transport System 3-slot (DTS3) is a rugged Network Attached Storage (NAS) file server for use in mobile vehicles, field ground stations, and aircraft. The DTS3 is easily integrated into network-centric systems providing an easy-to-use, turn-key, rugged Network File Server (NFS). The system houses three Removable Memory Cartridges (RMC) that provide a quick offload of data. The RMC can be easily removed from one DTS3 and installed into any other DTS3 providing full data transfer seamlessly between one or more networks in separate locations (e.g. ground-vehicle-ground).
Net-Centric Architecture
Most modern vehicles, aircraft, and systems are built around a network-centric architecture. The backbone of such systems is Gigabit Ethernet (GbE) which operates at 1.25 Gb/s. Ethernet is ubiquitous with extensive industry support including hardware and software.
With a network switch (or redundant switches) in the middle of the system, any network-enabled device can communicate with any other similar device. NAS, like the DTS3, allows any client to retrieve stored data or save newly captured data. A NAS provides size, weight, and power (SWaP) advantages by negating the need for storage in each computer, display, or management device. These network clients can use the DTS3 to store sensor or maintenance data and to retrieve the latest mission and digital map data and can be different operating systems (Linux, VxWorks, Windows, etc) or CPU's as long as they support industry-standard protocols like NFS, CIFS, FTP, or HTTP.
This product is not subject to the USA International Traffic in Arms Regulations (ITAR) controls (US EAR export controls applies).