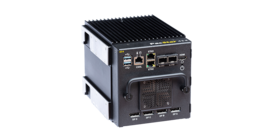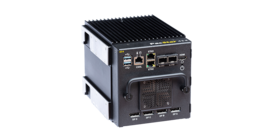 The PacStar® 454 NVIDIA GPU enhanced server provides a high-performance virtualization and compute platform for hosting intensive applications such as graphics, video processing, and artificial intelligence in a compact, quick setup, rugged form factor.
A wide variety of supported software options available including technologies from Aruba Networks, Cisco, Digital Barriers, Kinetica, VMware, and more
Intel 6th generation Xeon D processing platform with 12-cores
NVIDIA RTX5000 GPU with 3072 CUDA cores, 48 RT cores, and 384 Tensor cores
PacStar 454 NVIDIA GPU Enhanced Server
Designed for tactical, expeditionary vehicle-mount, forward operating base, and early-entry deployments for military, Homeland Security, first responders, and commercial/enterprise users, the PacStar 454 is ideal for applications that need high-performance computation in remote or distributed locations. The PacStar 454 meets size, weight, and power (SWaP) requirements unmatched by other COTS appliances.
The PacStar 454 is the optimal platform for tactical and distributed deployment of video and AI applications performing:
Video: encoding, decoding, transcoding, analytics, object detection
Natural language understanding and translation
Cybersecurity: threat analytics, vulnerability detection, and defensive adversarial ML
Sensor fusion, health monitoring, EW signal processing, augmented reality
Autonomous systems operations, navigation, predictive maintenance
Decision support
Virtual desktop infrastructure
The PacStar 454 is based on the powerful and proven PacStar 451 platform that features Intel Xeon D processing, with 128 GB RAM, 12 TB storage, and 10 GigE SFP+ ports, combining high-power, general-purpose computing with a PCIe connected NVIDIA RTX5000 GPU with 3072 CUDA cores, 48 RT cores, and 384 Tensor cores.