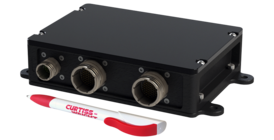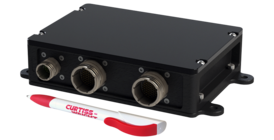 The RVG-SA1 analog video switch is a rugged, SWaP-C solution designed for aerospace and defense applications.
Key Features
Non-blocking, analog video cross point switch, 12 x 12 
Up to 4 x RGBHV external video ports
4 x EDID ports to support computer inputs
Max resolution 1920 x 1080 @ 60 Hz, 1600 x 1200 @ 60 Hz
Operating temperature range: -40 to +70C 
SWaP-C optimized 
DO-160 qualified 
Applications
Manned and unmanned vehicles 
Ground vehicle and airborne platforms 
Space constrained platforms
Aerospace and defense digital video systems 
RVG-SA1 Analog Video Switch
The RVG-SA1 is a rugged, size, weight, power and cost (SWaP-C) optimized analog video switch designed for use in the harsh environmental conditions that are encountered in aerospace and defense applications. Part of the Rugged Video Gateway (RVG) family, the RVG-SA1 can be incorporated into space-constrained manned and unmanned vehicles of all types.
Highly flexible, the RVG-SA1 implements analog crossbar functionality such that any of the 12 analog video inputs can be routed to any of the 12 outputs. The RVG-SA1 implements a digital crossbar to allow routing of 8 digital inputs to any of 8 digital outputs to support HSYNC and VSYNC connectivity of four PC-style analog video channels. In addition, the RVG-SA1 supports four separate EDID interfaces, providing the ability to emulate displays. 
The RVG-SA1 can be configured on the fly via its external RS-422 and CAN control interfaces or can be configured statically to support a specific mission. 
The switch is the latest addition to Curtiss-Wright's video management and processing product line which encompasses switching, recording, and displays.