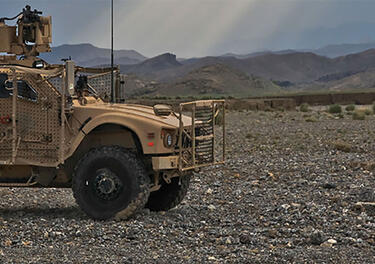 White papers
May 04, 2022
Defining the C5ISR Space for Army Vehicles
Department of Defense (DoD) mandate for modular open system architecture (MOSA) solutions – the U.S. Army's Program Executive Officer (PEO) for Ground Combat Systems (GCS) has issued an Interface Description Document (IDD) that describes the Standardized A-Kit/Vehicle Envelope (SAVE). SAVE is a new physical size, weight, and power (SWaP) and connector standard for fielding new C5ISR capabilities.
The SAVE, which stipulates the internal mounting and physical interfaces for connecting C5ISR Modular Open Suite of Standards (CMOSS) solutions such as radios and platforms, is primarily intended for new integrations and systems. SAVE is only intended for modular systems that electrically or digitally integrate into Army platforms and is not applicable to stowed equipment, vehicle elements such as engines of weapons, or external components such as antennas or armor.
SAVE is intended to speed and simplify the installation of C5ISR systems in Army vehicles. It regularizes the size, shape, and physical interfaces such as RF, data, and power, for mounting those systems. SAVE joins the CMOSS standards such as VICTORY, MORA, and OpenVPX – already called out by the GCS Common Infrastructure (GCIA) framework, but SAVE only covers the purely physical elements instead of how data flows between the systems integrated on a vehicle.
Log in and download the white paper to learn more.