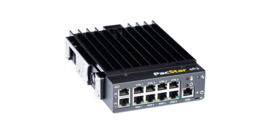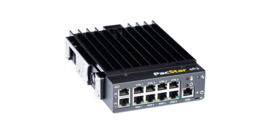 PacStar® 463 extends and integrates remote LMR radio networks into IP-based networks, enabling organizations to benefit from the best capabilities of each.
Based on proven technology from SCI TOCNET G4
Provides 4-wire RJ45 E&M circuits to support PTT for up to 4 radios
Provides 4 RS-232 radio control interfaces
PacStar 463 RoIP/Voice Module
PacStar 463 provides LMR-to-IP data conversion, interoperability between different radio types, radio cross-banding, and remote radio control over IP, in a small form factor, rugged module. When combined with other PacStar 400-Series modules, PacStar 463 will bridge gaps between IP-based communications networks and LMR tactical radio networks – providing comprehensive, tactical, and mobile interoperability solutions. PacStar 463 supports up to four radio networks simultaneously. It converts E&M signals to IP and provides cross-banding and radio control through industry-standard RJ45 and RS-232 interfaces. PacStar 463 is based on proven, software-defined technology adapted from SCI TOCNET G4 – deployed in thousands of systems and more than 50 major defense programs.