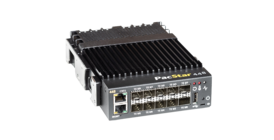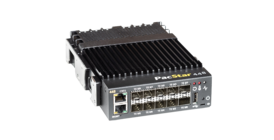 The PacStar® 448 provides high-density and "top-of-rack" applications at 10 Gigabit speeds supporting storage replication and workload mobility for hyper-converged infrastructure, cloud replication, and high-speed network interconnect.
Based on Cisco ESS 9300 with 10 GigE SFP+ ports
Industry-leading size, weight, and power (SWaP) provides customers maximum flexibility when integrating into programs where mobility and deployment speeds are critical
Patented, compact, snap-together design enables quick expansion with other PacStar 400-Series modules and packaging solutions
PacStar 448 10-Port 10 GigE Switch Module
The PacStar 448 enables networking for a wide variety of edge-based C5ISR, sensor, IoT, computing, and storage applications. It connects multiple applications and storage servers to ensure high availability and access to large quantities of mission-critical data in disconnected, intermittent, and limited (DIL) environments.
The PacStar 448 is ideal for use in environments requiring specialized form factor, size, weight, power, port density, and ruggedized compute and storage needs. Designed from the ground up to provide flexible deployment, configuration, and setup options, PacStar 448 can be used as follows:
As a standalone switch module

To provide high-speed switching infrastructure between servers and storage devices performing data-intensive tasks in tactical and expeditionary settings

Included in a modular, flexible system comprised of PacStar 400-Series modules, mounted in a variety of packaging and transport options
The module integrates seamlessly with other PacStar 400-Series standard small form factor modules, providing the best in small size, flexible power, and environmental ruggedness. PacStar also offers a wide array of system packaging options for PacStar 400-Series, including briefcase, transit case, rack mount, vehicle mount, and backpack transport.
PacStar 448 has been added to the Department of Defense Information Network (DoDIN) Approved Products List (APL).