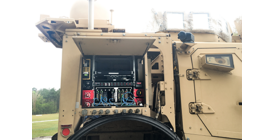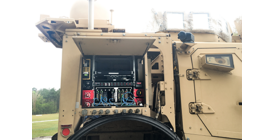 Providing industry-leading Size, Weight, and Power (SWaP) reduction to tactical communications while providing modularity and reliability in harsh environmental conditions.
Deploying networking equipment in vehicles, command posts, and fly-away kits has many challenges – including space, power, and fuel constraints, and environmental extremes. Yet, requirements to deploy more communications, networking, wireless, and cyber capabilities at the edge of the network conflict with goals to reduce the SWaP of deployed equipment.
To meet these conflicting demands, future programs are starting to look to small form factor networking and communications equipment – delivering more capability to the edge, while reducing SWaP and standing up to punishment.
Networking on the Move
Networking on-the-move capabilities are increasingly critical to today's warfighter, as adversaries equip themselves with the latest wireless technology and smartphones while actively moving in ground vehicles. PacStar solutions meet the demanding SWaP requirements of expeditionary programs and the increasingly mobile networking needs of the U.S. Marine Corps. Unlike traditional vehicle-mounted communications, PacStar products may be quickly and easily dismounted and used in command posts, without the use of tools.