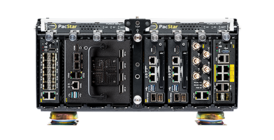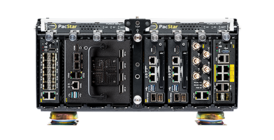 PacStar TFS is a COTS-based, modular, tactical, and expeditionary, rugged processing and data distribution node for sensor-enabled platforms and dismounted warfighters.
Smallest SWaP available today improves mobility and ruggedization compared to any other option

Modular system that can be optimized for program needs, maximizing the number of CPU cores, GPU cores, solid-state storage, and radio types depending on program needs

Based on Intel and NVIDIA processors and compatible with a wide variety of applications, can meet the needs of a vast array of C5ISR use cases
PacStar Tactical Fusion System
PacStar TFS provides a low SWaP-C, rugged, modular COTS, interoperable family of solutions based on the next-generation models of the field-proven PacStar 400-Series. The system is ideal for: 
Processing and analyzing video in visible and IR spectrum for target identification, tracking, and handoff
Integrating multiple sensor input from multiple endpoints, including from wireless sources
Supporting situational awareness, C2 and mission command applications
Distributing data, including geographic information and point-of-interest information to tactical squads
Executing computer vision and AI and ML algorithms with low latency
Using the smallest form-factor, most rugged, most widely deployed tactical compute and networking equipment today, PacStar TFS's modular, open architecture approach includes a family of more than 35 module types, including compute with GPU, storage, switching, routing, radios, crypto and more. Available with an unmatched array of vehicle-mount and warfighter carry options with MIL-STD certifications, PacStar TFS can meet the needs of the most demanding users.
Because PacStar TFS uses the field-proven and highly interoperable PacStar 400-Series, it offers a vendor-agnostic platform for supporting a vast array of industry-standard devices including COTS and GOTS software and can support any IP-enabled EUDs including cameras, AR/VR headsets, and legacy video and radio sources.
PacStar TFS demonstrated interoperability with the most popular tactical software and infrastructure products, and the most promising emerging technologies, ensuring future-proofing and upgradeability, including:
Microsoft Azure Edge / IoT Edge – for Azure replication and IoT/Sensor integration
Haivision Kraken – DoD-compatible video transcoding
Digital Barriers ServerViz – AI/ML-based video analytics with extensive object recognition and tracking
TAK Server – secures, brokers, and stores data for group collaboration via TAK clients on Windows, Android, and iPhone
Kinetica – IoT streaming data warehouse and AI/ML analytics database