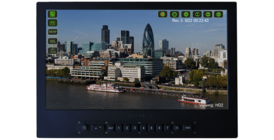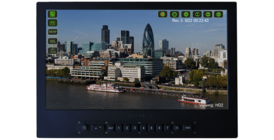 The AVDU rugged LCD mission displays with anytime readability are the perfect complement to HD cameras being used today for airborne surveillance.
Key Features
High brightness and advanced optical stack provide anytime readability
Night vision compatibility
Full touchscreen capability
Touchscreen over USB
Messaging and control over RS-422
Multiple video inputs and operator views
Highly configurable and field upgradeable
Fully ruggedized and sealed unit;
Applications
Airborne (rotary and fixed wing) 
Civil (police, search and rescue) and military 
Naval and ground vehicles 
AVDU Mission Displays
Curtiss-Wrights AVDU range of rugged mission displays offers a unique combination of new technology, including optically-bonded glass and dual-mode NVIS-compatible LED backlighting and a rich feature set including a highly flexible video input capability and touchscreen over USB support.
Enhanced software features enable system configuration flexibility and touchscreen capabilities that fulfill a wide range of mission requirements.
| Product | Size | Aspect Ratio | Resolution | Dimensions | Weight | Power Consumption |
| --- | --- | --- | --- | --- | --- | --- |
| AVDU4315 | 17.3" | 16:9 | 1920x1080 | 16.9 x 11.8 x 3.2" (430 x 300 x 82 mm)  | 13.7 lb (6.4 kg)  | 70 W  |
| AVDU5515 | 21.5" | 16:9 | 1920x1080 | 20.8 x 13.9 x 3.2" (529 x 352 x 82 mm)  | 19.4 lb (8.8 kg)  | 85 W  |
The AVDU is currently available in five display sizes and resolutions to address a wide variety of applications on ground, airborne and naval platforms. Fully qualified to established environmental standards, the displays can be used in standalone mode, where multiple video input capability can be used to present a number of configurable operator views, or as part of a Curtiss-Wright video management system (VMS) alongside video distribution switches and recorders. When used in a VMS, the display's touchscreen capability allows all the functionality of these units to be easily controlled by the operator. The displays feature multiple control inputs including Ethernet, CANBus, RS-232/RS-422, and USB, and the most widely used video interfaces including DVI HD-SDI, VGA, and composite video, offering maximum flexibility to system integrators. They are fully interoperable with the latest turret and downlink solutions on the market.