VPX6-1961 VPX Intel Xeon W-11000E SBC Product Sheet
The VPX6-1961 from Curtiss-Wright Defense Solutions is a rugged, high-performance 6U OpenVPX single-board computer (SBC) that combines Intel's powerful 11th Gen Intel Xeon W-11865MRE (formerly "Tiger Lake-H") processor with the power and flexibility of the VPX platform's high-speed fabric interconnects.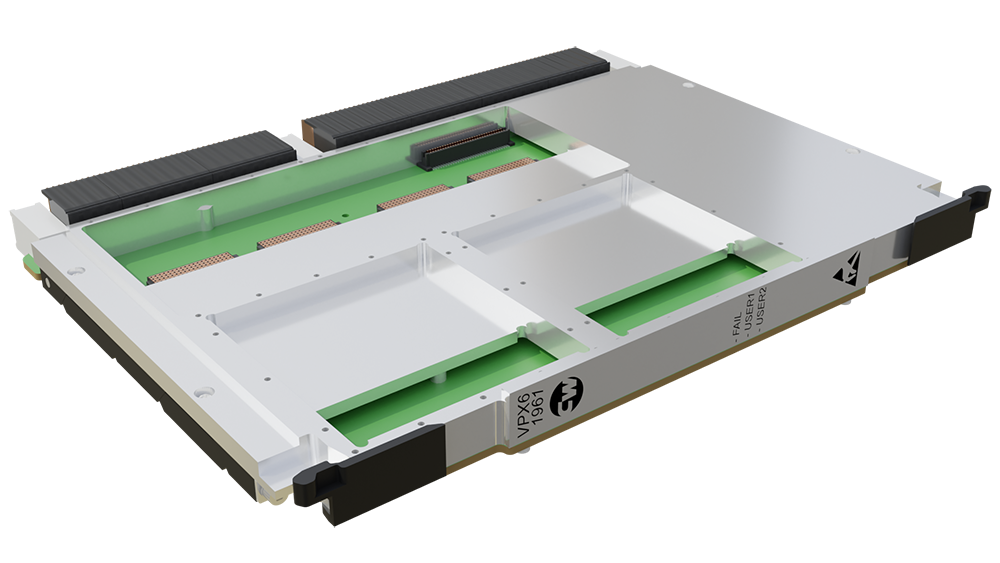 For Demanding Mission Computing, Machine Learning and Virtualization Applications
The first of its kind in the industry, the VPX6-1961 processor card is our most powerful and capable single board computer yet.
Latest Intel processing technology
Enterprise-class virtualization
Hardware foundation for machine learning applications
Powerful upgrade for legacy processors
This board features an Intel Xeon W-11000E Series processor, which offers more performance than previous generations. With eight processor cores, system designers can now significantly reduce their platform's size, weight and power, and cost (SWaP-C) requirements by consolidating processing tasks, which would formerly require multiple SBCs, into a single slot. This processor card works well with our complete portfolio of 6U VPX products, including the CHAMP-XD2 digital signal processor, the VPX6-6802 Ethernet switch, the CHAMP-FX4 FPGA module, and the VPX6-4955 dual NVIDIA Turing GPU, enabling you to build a complete 6U VPX system or have our system integration experts design a system for your program requirements.
Latest Intel processing technology
This 6U OpenVPX module is powered by a high-performance Intel Xeon W-11000E Series processor with double the number of cores compared to previous quad-core generations. Qualified to operate at extreme temperatures and under demanding shock and vibration conditions, the VPX6-1961 pairs the processor with a highly rugged board design that enables reliable performance in the most demanding conditions. The processor features Intel's latest Gen 12 graphics engine, providing up to three display interfaces with performance rivaling discrete graphics solutions.
Enterprise-class virtualization
Optimize SWaP by consolidating workloads on a single blade. The VPX6-1961 provides enterprise-class virtualization through its processor's Intel Virtualization Technology (VT-x, VT-d), large amounts of memory (64GB SDRAM and up to 1 TB SSD) and the board's support for hypervisors such as VMware.
Hardware foundation for machine learning applications
The Intel Xeon W-11000E Series processor also provides acceleration for machine learning and artificial intelligence (AI) applications using Intel's Vector Neural Network Instruction (VNNI) technology and double the floating-point performance using AVX512 for accelerating math-intensive applications.
Powerful upgrade for legacy processors
The VPX6-1961 provides an excellent upgrade path for many older 6U VPX processing modules. It is pin-compatible with a wide range of Curtiss-Wright rugged deployable Intel SBCs ranging from our very successful Core2 Duo VPX6-1901 through to Intel's 5th generation Broadwell based VPX6-1959.