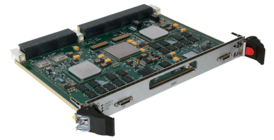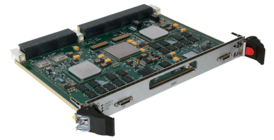 The CHAMP-XD2 6U VPX Intel Xeon D DSP Processor Card features 32 GB DDR4 per Xeon socket, 40G/10G Ethernet, InfiniBand, XMC, PCIe Gen3 and more.
Key Features
Dual processor Xeon D 8-core D-1539 (820 GFLOPS @ 1.6 GHz total) or 12-core D-1559 (1152 GFLOPS @ 1.5 GHz total)
Extended operating temperature Intel eTEMP SKUs
PCH integrated in Xeon D SoC 
Four ports of 40G/10G Ethernet or DDR/QDR/FDR10 InfiniBand on OpenVPX data plane
Native dual KX 1 GigE or KR 10 GigE ports on OpenVPX control plane
16 to 32 GB DDR4 @ 2133 megatransfers per second per Xeon D socket (68 GB/s aggregate)
XMC PCIe up to Gen 3, designed for up to 25W thermal dissipation
Dual x16 PCIe Gen 3 on OpenVPX expansion plane with switch
Core Function FPGA with IPMI 
Conduction and air-cooled, contact Curtiss-Wright for Air-Flow Through (AFT) options
Up to 4 ports USB 2.0/USB 3.0
SSD – SATA Gen2, NAND Flash, 16 or 32 GB, one per processor node
Up to 6 SATA ports
4 x temperature sensors
OS support: CentOS Linux®, Red Hat® Enterprise Linux®, Wind River® VxWorks® 7 (SR0600). Contact Curtiss-Wright for more information.
VISPL and Vector Match/DSP libraries
Communications support via MPI/OFED

Compatible Partner Products:

Applications
Multi-mode Radar 
Synthetic Aperture Radar (SAR)
Signal Intelligence (SIGINT)
Electro-Optical/Infrared (EO/IR)
Electronic Warfare (EW) 
Mission computing 
Industrial server applications 
CHAMP-XD2 6U VPX Intel Xeon D Processor Card
Facing increasing SWaP-C demands and harsh environments, boards now need to be smaller and more powerful than ever, while still working with tight budgets. Standard cooling methods offer a low-cost, reliable solution when paired with a proven ecosystem of hardware and software.  
As the only dual Xeon D board on the market, Curtiss-Wright's CHAMP-XD2 offers higher compute density per slot allowing Intel architecture into the most rugged environments. Our advanced designs allow you to take advantage of mainstream cooling methodologies with advanced techniques and proven tools from high-performance computing, giving you the power and size, you need with less risk and associated costs.
The 6U OpenVPX Intel Xeon D DSP is available in a range of ruggedized configurations to deliver optimal performance in the harshest deployed environments, including air-cooled and conduction-cooled variants. There is also resident a Core Function field programmable gate array (FPGA) used for Trusted COTS security and general-purpose I/O in addition to a dedicated Intelligent Platform Management Interface (IPMI) FPGA used for system monitoring and health.