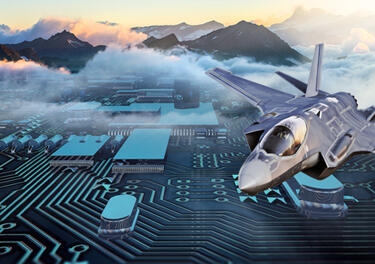 White papers
June 07, 2023
Fabric100 100GbE Processing
Data processing for defense and aerospace applications is rapidly becoming more complex. To deliver the faster processing and information sharing that modern systems require, system designers must adapt to the latest proven technologies. To address this daunting problem and reduce the system design risks associated with higher-speed interconnects, Curtiss-Wright has developed Fabric100, a complete end-to-end ecosystem that features 100 Gigabit Ethernet (GbE) connectivity between rugged OpenVPX modules and system components.
It is not enough to simply provide 100Gbit connections between a system's modules yet fail to support the ability to process all that data within the modules themselves.
Recognizing that, Fabric100board products are designed to deliver full 100Gbit performance throughout the entire system processing chain. 100GbE connectivity is provided within systems and 100GbE connectivity is provided between systems via optical interconnects. This high-speed ecosystem effectively eliminates data bottlenecks that might otherwise compromise system performance.
To keep pace with the speed of today's accelerated technology development, aerospace and defense partners are increasingly leveraging technology from the commercial market. This enables system designers to take advantage of the rapidly advancing performance, interoperability, and affordability benefits of commercial devices and networking.
Using these cutting-edge commercial technologies in reliable, long lifecycle, aerospace and defense systems requires expert engineering across multiple disciplines. Defense systems need validated and trusted designs to ensure sustainable and reliable service life for both intra-system and inter-system operability, along with the physical and cyber protections necessary for the harshest environments and most contested missions.
Log in and download the white paper.