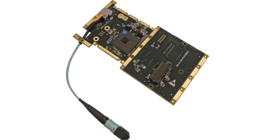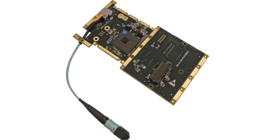 Today's embedded systems must support the ever-increasing demand for more bandwidth, the XMC-E01 is engineered to deliver 10Gb Ethernet connectivity for tech insertions while simplifying integration.
Key Features
Four channels 10 GbE
IEEE 1588 PTP support
10 GBASE-SR (850 nm, multi-mode)
XMC (VITA 42) form factor
Adaptable construction requiring no modification to conduction-cooled carriers
Removable interconnects for ease of installation and service
Rugged and compatible with air and conduction-cooled modules
Operating temperature: -40°C to +85°C
Linux and Windows drivers available
Applications
Bandwidth intense ISR, sensor input, and high performance (HPEC) applications
High bandwidth data ingest
Backplane connectivity
XMC-E01 Quad-Channel 10Gb Fiber-optic Ethernet XMC
For bandwidth intense ISR, sensor input, and high-performance embedded computing.
Delivering ease of integration and serviceability, the XMC-E01 hits the sweet spot for system integrators needing a tech refresh without the hassle of custom modifications. Based on Intel®'s popular XL710 Ethernet Converged Network Adapter, the XMC-E01 delivers four independent channels of 10 GbE while it's unique "pigtail" cable feature mitigates the need for custom modifications and provides ease of access for service or upgrades.
Unleash the benefits of fiber-optic transceivers for high-speed data communications, without the unwanted integration hurdles, with the XMC-E01 Quad-Channel Fiber-Optic Ethernet XMC card.
Future-proof Ethernet connectivity
Delivering high-speed data communications while eliminating heavy, costly copper cabling often associated with fiber-optic data transmission, the XMC-E01 is engineered to bring quad-channel 10Gb Ethernet to modular open system approach (MOSA) systems without the need for chassis modification. This XMC module provides system integrators with the benefits of fiber-optic to deliver a 10 GbE solution today while offering an easy path to upgrade as bandwidth requirements change and technology advances.
Simplify integration and serviceability
The module's fiber-optic "pigtail" cable features a midline MTP® connector that enables the module to be easily removed from the carrier card without disturbing the system's fiber-optic cabling or requiring custom modification of the carrier card's heat frame. This design feature can eliminate the additional time and cost incurred if analysis or requalification of the system's thermal management performance is ever needed.
Other modules feature fiber-optic transceivers that are soldered onto the board, making it necessary to ship the entire board back to the factory for service. The XMC-E01's design enables its fiber-optic transceiver to be replaced without the need for soldering equipment and other factory processes that support greater depot serviceability and integration capabilities.
Reduce slot count and SWaP burdens by 50%
Compared to competing two-channel designs, the XMC-E01 reduces slot count and size, weight and power (SWaP) burdens by half while delivering four independent channels of 10 GbE. The XMC card also provides a range of advanced features such as checksum offload and IEEE 1588 PTP.
Fiber-optic cards that use a front-of-card connector approach introduce rigid cable length and bend radius requirements, increasing the space provided at the front of the card within the chassis. The XMC-E01 saves system designers an inch or more of space at the front of the carrier card, enabling the use of smaller, lighter chassis using a single quad transceiver and providing an aperture in the XMC's PCB for cabling access.
Built rugged for harsh environments
Engineered for optimal performance in embedded systems, the XMC-E01 has specific retention features to ensure operation in the harsh shock and vibration environments encountered in military and aerospace applications. In addition to an operating temperature range of -40°C to +85°C, the transceiver directly connects to the heatsink to ensure adequate cooling at high temperatures in conduction-cooled implementations.
Increase Interoperability, Maintainability & More with MOSA
Building on our years of experience and participation in the development of open standards, we design our rugged hardware to bring the benefits of a Modular Open Systems Approach (MOSA) architecture to deployed ground, airborne, and naval platforms. Explore our solutions aligned with MOSA-supporting standards like SOSA, CMOSS, VICTORY, GVA, FACE, and OMS/UCI.