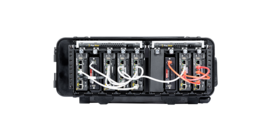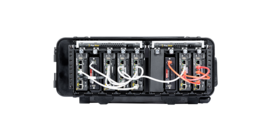 The PacStar Secure Wireless Command Post (SWCP TLS) is a fully integrated, expeditionary solution that provides warfighters with the groundbreaking ability to transmit classified information over wireless networks in the field using LTE-enabled commercial smartphones and tablets.
A secure, converged, high-speed, PKI-enabled encryption infrastructure capable of transmitting classified information, including multiple classified networks up to Top Secret
A complete, standalone system including all CSfC cybersecurity components (PKI, VPN, Authentication Systems, TLS protected server, Firewalls, IDS, etc.) necessary to meet NSA CSfC recommendations
Includes technologies listed on CSfC component list, eliminating the need for deviations
PacStar Secure Wireless Command Post (SWCP) TLS
PacStar Secure Wireless Command Post (TLS) is a small modular communications package that enables wireless and mobility for Android-based COTS smartphones and tablets for classified networks in deployed, expeditionary and tactical environments. The SWCP (TLS) expands on the pioneering PacStar SWCP (Wi-Fi) that provides high-speed wireless for mobile devices, at Wi-Fi distances, typically a few hundred feet. With the addition of LTE, PacStar now enables warfighter mobility at much greater distances, measured in thousands of feet or several miles from the cellular base station – much like consumers are able to roam using LTE for daily activity.
PacStar SWCP TLS is managed by PacStar IQ-Core Crypto Manager, which streamlines system setup, configuration, certificate management, and VPN management.