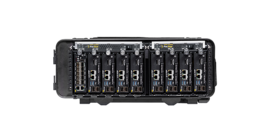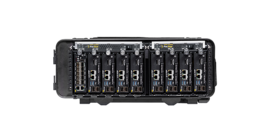 PacStar MDC-NR enables tactical and expeditionary teams to access the data and compute resources, using state-of-the-art cloud, virtualization, and containerization, even in disconnected, intermittent, and limited (DIL) environments, where WAN connectivity is not assured.
High-density compute, storage, and networking capable of handling large loads with industry-leading SWaP reduction

Multiple levels of HA available with VMware vSAN, includes the ability to move VM workloads between PacStar 455 ESXi hosts

Expandable/modular system may be customized with added networking or alternative component technologies
PacStar MDC-NR
PacStar MDC-NR provides converged compute/storage/networking at the edge of the network, supporting a diverse array of use cases in DIL environments including:
hosting situational awareness, mission command, and C2 applications

supporting SIGINT, HUMINT, and IMINT data gathering and analytics workloads

supporting emerging IoT and sensor fusion-based applications

unifying access to data and applications from enterprise to the tactical edge

hosting compute and storage-intensive networking, cybersecurity, and VDI solutions
PacStar MDC-NR uses the PacStar 400-Series modular platform designed to maximize capabilities with the smallest SWaP possible – enabling high amounts of compute, storage, and RAM at the edge without sacrificing mobility. PacStar MDC-NR adds to the PacStar MDC series of integrated solutions, utilizing PacStar 451-NR servers – supporting high-speed NVMe storage and remote management via IPMI.