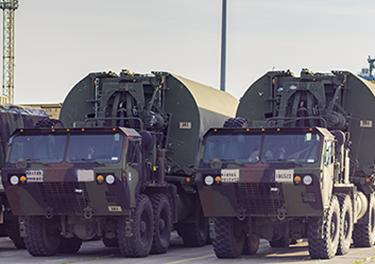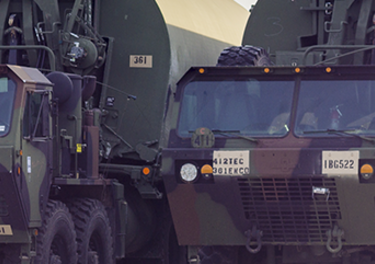 Graphics Processing Combo in One 3U VPX Slot: Turning the Typical Upside-Down
Curtiss-Wright's New Board Solution Marries Graphics Performance and Thermal Management
In military applications, advanced graphics are key to mission success. Today's sophisticated mapping and visual applications empower warfighters with mission-critical information for hundreds of tasks, from assessing landing conditions, to navigating past unexpected obstacles or observing foot traffic across a ridge. These graphics-based applications demand robust processing power that fits within the Size, Weight and Power (SWaP) constraints of small, tactical platforms. 
Curtiss-Wright meets this need with a single-slot 3U VPX solution for quad-head graphics display. A new small form factor board set combines Curtiss-Wright's highest performance embedded graphics module, the VPX3-716 3U OpenVPX graphics display card, with the low-power XMC-109 mezzanine Single Board Computer (SBC). Both boards are ruggedized for shock, vibration and extreme temperatures. 
This board combination delivers deployable quad-head graphics display engine capabilities by inverting common practice. Typically, an SBC base card works in tandem with a graphics mezzanine module. The new Curtiss-Wright board combo is the opposite configuration; it pairs a graphics base card with an SBC mezzanine. Extra heat from the powerful graphics processor is dissipated across the 3U base card, creating the perfect marriage of performance and thermal management.
 
What's in this Unique Combo? 
VPX3-716 3U VPX Graphics Processor

AMD E8860 GPU, can run at full clock speed 
Six independent graphics outputs 
2 GB of dedicated video memory 

XMC-109 Power Architecture SBC

Dual-core QorIQ P2020 processor 
5600 DMIPS in under 18 watts 
Abundant I/O and 8 GB of DDR3 memory 
What Makes this Board Combo Great? 
This new single-slot 3U VPX solution will transform your ability to deliver advanced graphics by offering three key advantages:  
SWaP-optimized design. Putting powerful graphics and an SBC into one slot, it is ideal for the space constraints of helicopters, ground vehicles, UAVs or other deployed SWaP-constrained platforms.  
Superior thermal management. Complex graphics processing produces significant amounts of heat that, when left unaddressed, affects system reliability. With this ruggedized board combination, systems engineers can achieve the best in graphics display and thermal management. Available in air- and conduction-cooled configurations, the system works by dissipating extra heat from the graphics processor across its entire 3U base card, thus ensuring that the graphics processor runs safely and at full clock speed.  
Pre-integrated software tools. The board combination has been fully validated and tested with the CoreAVI Software Drivers and the ANSYS HMI Development Tool. That means engineers can develop applications immediately, with reduced design risk, lower upfront costs, and compressed development schedules.  
This board set is ideal for applications that require both graphics performance and thermal management, including embedded training, moving maps, Geographic Information Systems (GIS), 360-degree situational awareness, and Degraded Visual Environment (DVE).
Graphics & Video Cards
Your One Stop for Video Capture and Graphics Processing Modules