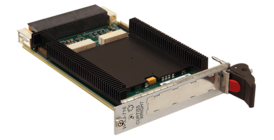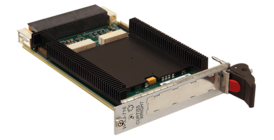 The VPX3-716 3U VPX Graphics card is a high-performance graphics controller with the AMD E8860 embedded discrete GPU technology and four independent outputs.
Key Features
AMD Radeon E8860 GPU

2 GB dedicated video memory
H.264 codec for accelerated video encode and decode

Four independent display outputs

Dual DVI with support for dual-link
Dual DisplayPort supporting up to 4K

1 x XMC site including processor mezzanine and peer-peer support

Low SWaP-C with processor XMC
Low latency with peer-to-peer support for XMC

RTOS driver support for Power Architecture, Intel and ARM
x86 Windows and Linux drivers
Air- and conduction-cooled
Applications
High-performance graphics and display systems
Applications such as:

Moving maps
Synthetic Vision & Degraded Visual Environments (SVS/DVE)
Geographic Information Systems (GIF)

Small form factor systems requiring high performance and low power graphics
Graphics systems requiring safety certification
VPX3-716 3U VPX/OpenVPX AMD E8860 Graphics Processor
The VPX3-716 is an industry-leading rugged 3U VPX/OpenVPX, high performance graphics processor based on the AMD Radeon E8860 Graphics Processing Unit (GPU). The E8860 meets the long lifecycle availability required for military programs through the use of a suite of CoreAVI software drivers and 20-year component supply program.
Designed for high reliability, the VPX3-716 VPX/OpenVPX graphics card is especially well-suited to support embedded training, moving maps, Geographic Information Systems (GIS), 360 degree situational awareness, Degraded Visual Environment (DVE) and other graphics, video and compute-intensive applications.