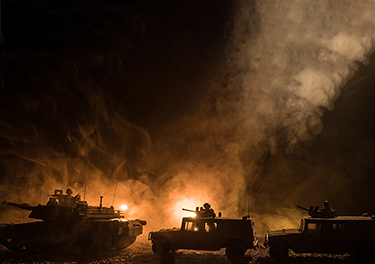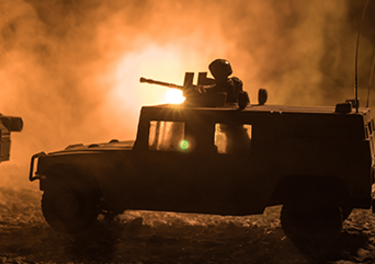 Press release
October 10, 2022
Curtiss-Wright Showcases New Rugged MOSA-based Solutions for Ground Vehicles and Live System Solution Demonstrations at AUSA 2022
Curtiss-Wright will display its latest Modular Open System Approach based system solutions designed to deliver transformational capabilities for the Army of 2030
AUSA 2022, Walter E. Washington Convention Center, Washington D.C. (Hall A/B/C - Booth 1309) – October 10, 2022 – Curtiss-Wright's Defense Solutions division, a leading supplier of Modular Open Systems Approach (MOSA) based solutions, will showcase its latest rugged system solutions designed to deliver transformational capabilities for the Army of 2030 at this year's AUSA Annual Meeting Exposition. One of the most important drivers fueling new and innovative capabilities for future mission success and sustained overmatch is the DoD's mandate for open standards based MOSA solutions. During the AUSA 2022 Annual Meeting and Exposition (Booth 1309), October 10-12, 2022, Curtiss-Wright will showcase its latest products designed in compliance with the U.S. Army CCDC C5ISR Center's CMOSS standard and aligned with the Sensor Open Systems Architecture™ (SOSA) Technical Standard 1.0.

Curtiss-Wright will present innovative, integrated technologies for next-generation systems and platforms, including modular open system architecture approaches for next-generation combat vehicle agility and sustained overmatch capability. On display will be a wide range of solutions for embedded computing, communications/networking, data storage/recording, video management/displays, motion control, enclosures/consoles and fully integrated systems. These solutions ease and speed the deployment of such capabilities as secure transport-agnostic and data-centric network operations at the tactical edge.

The Curtiss-Wright HMMWV Demonstration Vehicle
Curtiss-Wright's U.S. Army M998 HMMWV demonstrator vehicle will host live demonstrations of its latest MOSA-based CMOSS and SOSA aligned processing and tactical networking communications capabilities. This compelling demonstration platform provides real-world examples of Curtiss-Wright's ability to enable rapid innovation and integration of military ground vehicles.
The integrated demo also highlights Curtiss-Wright's leadership position in enabling the seamless sharing of information between platforms, connecting the battlefield with Secure Wireless Network Solutions. All of the live demonstrations featured on the HMMWV Demonstration Vehicle are connected over the vehicle's network backbone using the PacStar® IQ-Core® Software secure communications management solution.
1) A "Glide Path" Approach for Integrating SOSA Aligned Solutions on Ground Vehicles
The latest addition to Curtiss-Wright's PacStar family of advanced communications solutions for the DoD is the new 5-Slot PacStar VPX Smart Chassis, which provides the highest level of SOSA alignment available today. The chassis is designed to fit into a SAVE enclosure alongside a PacStar 400-Series 4-Slot Smart Chassis comms system, facilitating the future transition to a full CMOSS/SOSA aligned hardware solution.
The PacStar Hybrid MOSA Solution, which houses both the new PacStar VPX Smart Chassis and PacStar 400-Series 4-Slot Smart Chassis in a single SAVE enclosure, will host the Secure Wireless Mesh Remote Endpoint (SWMRE) Demo Kit and PacStar IQ-Core Software secure wireless network.
2) CMOSS/SOSA Ruggedized Universal Software-Defined Radio (USRP)
The SOSA aligned VPX3-E320 USRP Ruggedized Universal Software-Defined Radio module, the first fully rugged OpenVPX variant of technology partner NI's popular Ettus Research USRP E320 SDR solution, will be shown running 3dB Labs SCEPTRE software to show live RF spectrum and demodulation.
3) Low SWaP Command & Control Platform
With technology partner REDCOM, Curtiss-Wright will demonstrate a rugged deployable MOSA solution for voice, video, chat and radio interop featuring REDCOM Sigma SRI running on the CMOSS compliant VPX-1260 single board computer in a virtual environment. This compact single platform solution will feature the REDCOM Sigma C2 Console unified interface for controlling all IP and RF comms on the C2 network.
4) Tactical Data Links for Battlefield Communications
Curtiss-Wright's TCG HUNTR Tactical Data Link (TDL) Hub and Network Translator will be shown supporting Link 16 and other TDLs for situational awareness. Simulation software providing visibility into real world links with air, sea and ground platforms on a local map will be shown running on the Parvus DuraCOR 8043 ultra-small form factor mission computer.
5) A Deployable Network Backbone
The Parvus DuraNET 3300 Cisco Switch will host PacStar IQ-Core Software to map and manage all networked nodes in the HMMWV Demonstrator Vehicle, connecting equipment and virtual machines, and providing access to information from a single workstation. Three Parvus DuraCOR small form factor mission computers on the HMMWV will display data on Curtiss-Wright rugged AVDU (Audio Visual Display Unit) and GVDU (Ground Vehicle Display Unit) touchscreen displays.
6) CMOSS/MOSA Solutions
Also featured on the HMMWV are the 3-slot 3U OpenVPX™ CMOSS/SOSA Starter Kit system and 5-slot and 8-slot CMOSS/SOSA Chassis. The CMOSS/SOSA Starter Kit hosts a VPX3-687 VICTORY Network Ethernet switch module, VPX3-A-PNT module with CSAC, IMU and GBGRAM Type-II SAASM/M-Code receiver, and VPX3-1260 Intel 8th Gen Xeon Processor single board computer (SBC). The 5-slot and 8-slot CMOSS/SOSA Chassis highlight Curtiss-Wright's expansive CMOSS/MOSA product portfolio relative to ground vehicles, and its ability to support the highest functional density using natural convection cooling. Curtiss-Wright's new CMOSS chassis are designed to meet the U.S. Army PEO Ground Combat Systems (GCS) Standardized A-Kit / Vehicle Envelope (SAVE), a new standard that defines internal mounting and physical interfaces for connecting CMOSS systems and radios to platforms. These fan-free chassis are ideal for use in Ground Combat Vehicle, and Tactical Wheeled Vehicle Platforms, as well as high-performance ground or rotary wing processing applications.

7) Tactical Battlefield Communications
In the vehicle PacStar IQ-Core Software will be demonstrated running in dashboard mode. Also, a SAVE-compliant enclosure housing a 4-slot PacStar Smart Chassis with Secure Wireless Command Post Extension (SWCP-X) for vehicle-to-vehicle communications will be demonstrated. The hybrid CMOSS OpenVPX™ chassis shows Curtiss-Wright CMOSS/SOSA modules integrated with existing PacStar 400-Series modules for the first time.
A Leader in Open Standards
Curtiss-Wright is an active contributor to the definition and advancement of the open standards included in CMOSS and those being defined in The Open Group Sensor Open Systems Architecture™ (SOSA). Curtiss-Wright has been a leading participant in the development of the CMOSS and SOSA standards since the inception of both initiatives and is a key participant in several SOSA™ Consortium working groups (including holding a chair position in the SOSA Consortium). In addition, the company has been a leading contributor to the VITA Standards Organization (VSO) that oversees the definition of the OpenVPX, PMC, XMC, and FMC form factor standards that provide the foundation of both CMOSS and SOSA technical standards. This makes Curtiss-Wright ideally positioned to work with customers to help guide the development and success of their CMOSS and SOSA aligned applications.
For additional information about Curtiss-Wright MOSA technologies, please visit www.curtisswrightds.com, LinkedIn, and Twitter @CurtissWrightDS.
About Curtiss-Wright Corporation
Curtiss-Wright Corporation (NYSE:CW) is a global integrated business that provides highly engineered products, solutions and services mainly to Aerospace & Defense markets, as well as critical technologies in demanding Commercial Power, Process and Industrial markets. Headquartered in Davidson, North Carolina, the company leverages a workforce of 8,000 highly skilled employees who develop, design and build what we believe are the best engineered solutions to the markets we serve. Building on the heritage of Glenn Curtiss and the Wright brothers, Curtiss-Wright has a long tradition of providing innovative solutions through trusted customer relationships. For more information, visit www.curtisswright.com.
###
NOTE: All trademarks are property of their respective owners.