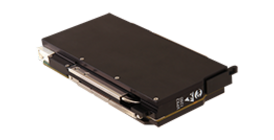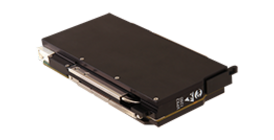 The VPX3-1260 rugged 3U OpenVPX 9th Gen Intel Xeon SBC delivers full-featured, all-in-one processing for high-performance embedded computing, general-purpose processing and C5ISR applications.
Key Features
Intel 9th Gen "Coffee Lake Refresh" Xeon E or 8th Gen Xeon "Coffee Lake" processor
Variants developed in alignment with the SOSA Technical Standard (both I/O Intensive and Payload profiles) available
6-Core (12-thread) Xeon E-2176M at 2.7 GHz with Turbo up to 4.4 GHz
Up to 32 GB DDR4 at 2,400 MT/s with ECC
Up to 256 GB high-performance NVMe onboard storage
1G, 10G, and 40G Ethernet connectivity
Supports one XMC expansion mezzanine
Available in air-cooled, conduction-cooled, and AFT versions
Supports Linux (Fedora and Red Hat), VxWorks, GHS INTEGRITY, Microsoft Windows and LynxOS

Compatible Partner Products:

Applications
High Performance Embedded Computing (HPEC) systems
General computing and mission processing
Multi-SBC systems for advanced processing and ISR applications
VPX3-1260 SOSA Aligned 3U VPX 9th Gen Intel Xeon Processor Card
Advanced Processing and C5ISR Applications
Optimal for high-performance embedded computing (HPEC), general processing, and a variety of C5ISR applications, the VPX3-1260 rugged single board computer (SBC) delivers a fully featured, all-in-one processing solution for your embedded system.
This powerful board features the 9th Gen Intel Xeon "Coffee Lake processor", offering a huge leap in performance from previous Core i7 and Xeon processors. Awarded Gold in the 2018 MAE Innovator Awards for its impressive design, the VPX3-1260 delivers a competitive edge in commercial and defense embedded systems.
Aligned with the SOSA Technical Standard
Choose from variants to support your specific requirements, including models developed in alignment with The Open Group Sensor Open Systems Architecture™ (SOSA) Technical Standard (I/O Intensive and Payload profiles) or E-OSA specifications.
Advanced Processing Capability
The robust VPX3-1260 leverages Intel's first-ever six-core processor to deliver 50% more processing power than previous four-core designs. The VPX3-1260 is the first Intel SBC to offer 10G and 40G Ethernet connectivity, providing customers faster data transfer and higher network productivity than ever before, as well as maximum flexibility to meet various integration requirements. What's more, its local NVMe local SSD storage provides a 3-5x improvement in performance and up to 16x capacity over traditional SATA SSD interfaces.
Reliability in Challenging Environments
Maximize capability in the most demanding conditions faced by industrial technology and airborne, ground, and naval platforms. The rugged VPX3-1260 is built to VITA 47 standards for reliability and with a unique thermal design to provide the highest non-throttling performance in the industry.
Enhanced Security for Trusted Computing
The VPX3-1260 offers Intel's latest Trusted Computing features, such as Intel Boot Guard and UEFI Secure Boot, along with secured run-time software enclaves like Intel Software Guard Extensions (SGX). Implemented as part of our TrustedCOTS Trusted Boot security framework, the VPX3-1260's security protections help safeguard your system against physical and remote threats.
Assured Investment Protection
The VPX3-1260 is pin-compatible with previous generations of Curtiss-Wright Intel SBCs to simplify tech insertion. What's more, the board's processor offers Intel's typical 15-year lifetime availability and is further supported by Curtiss-Wright's 10+ year board availability and Total LifeCycle Management (TLCM) services to guarantee its longevity.
 
Compatible Partner Products: