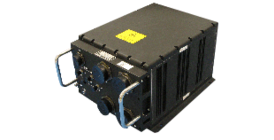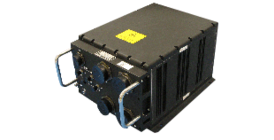 Curtiss-Wright rugged, conduction-cooled, network-centric flight control & management computer is designed to operate in a rugged UAV environment.
 System Design

Redundant and full authority
Interfaces to navigation sensors, communication system, ATC IFF, actuators and flight management subsystems

 Chassis:
1 ATR, 6U 11-slot, VME/VPX-based conduction-cooled solution
 System Architecture:
VME/VPX-based open architecture design
 System Processor:
High-performance 6U single board computers (SBCs)
 I/O

ARINC 429 interface
4-port dual redundant MIL-STD-1553 interface
Analog I/O (ADC/DAC/differential and discrete) – 96 ports
Serial I/O (EIA-422/423/232)

 Operating System & BSP Support:
Wind River VxWorks 6.x and ARINC 653 BSP
 Power:
28 VDC MIL-STD-704E power input
 Power Consumption:
~ 150W full configuration; 100W typical
 Dimensions:
13.87 x 8.1 x 11.59" (352.3 x 205.74 x 294.39 mm)
 Weight:
35 lb (15.88 kg)
 MTBF:
depending on configuration
 Flight Hours:
Over 20,000
Applications
Network Centric Warfare (NCW)
Electronic Warfare (EW), electronic surveillance, electronic support measures
UAV flight control and management
Vehicle Management Computer (VMC)
Integrated Mission Management Computer (IMMC)
Real-time flight critical applications
Avionics bus control
Unmanned ground vehicle control
Flight Control Computers
The Curtiss-Wright Defense Solutions rugged, conduction-cooled, network centric flight control and management computer is designed to operate in a rugged UAV environment and provides a total flight control solution backed by substantial technical maturity and heritage. The flexible and open architecture of this flight control computer provides a future-proof and scalable platform to execute vehicle-tailored flight control law algorithms on Wind River VxWorks 6.x or ARINC 653 BSP. Curtiss-Wright's system solution is fully qualified to perform in rugged deployed environments.
Curtiss-Wright's modular design & systems capabilities building blocks:
Electronic / Embedded Systems
COTS Cards including: Processor Cards, FPGA Processing, Networking Cards, Graphics, Data Recorders, and Storage solutions
BSPs & Software Tools
System design, engineering and integration (download the Engineering Capabilities datasheet to learn more.
Program Services
Support Services
System Integration, Engineering, Test Planning & Verification Services
When you have a system integration challenge, reach out to our system design team as early in your program cycle as possible and let a Curtiss-Wright system architect put their system integration expertise to work for you. Our unmatched breadth of system integration capabilities helps to eliminate your design risk to ensure the success of your program's system development, integration, and deployment.
See the Full Scope of Our Services