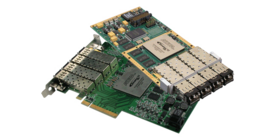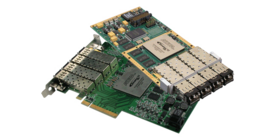 The FibreXtreme multi-channel SL100 / SL240 Serial FPDP boards blast data up to a sustained 494 MB/s on each of the four channels.
Key Features
1, 2 or 4 full speed channels
PCIe and XMC x 8 form factors
Compatible with x 16 and x 32 PCIe slots
4 x independent data streams to host
256 Mbytes of on-board DDR2 SDRAM
Supports 1.0625 Gb/s, 2.5 Gb/s and 5.0 Gb/s serial data rates
ANSI/VITA 17.1-2003 sFPDP protocol
Support for front and rear I/O options
Up to 494 MB/s sustained data rate simultaneously on each channel
Extends FPDP connections up to 50 km
Various levels of error detection and status reporting
Applications
Digital signal processing
Radar and sonar
Medical imaging
Range and telemetry systems
Video production
FibreXtreme Multi-Channel SL100/SL240 Serial FPDP
Based on the technology pioneered in the original Simplex Link series, FibreXtreme SL100/SL240/SL500 multi-channel Serial FPDP (sFPDP) boards blast data up to a sustained 494 MB/s on each of the four channels.
FibreXtreme sFPDP boards support up to a 5.0 Gb/s serial data link which utilizes a highly specialized communications protocol optimized for maximum data throughput. Data transfers occur without the CPU overhead and non-deterministic latencies associated with many layers of complex communication protocols. The SL100/SL240/SL500 on-board Direct Memory Access (DMA) engine is optimized for maximum data throughput without processor intervention. DMA and register byte-swapping provide additional system flexibility.
Standard Architecture
sFPDP technology (ANSI/VITA 17.1-2003) is the industry standard for high-speed serial communication in today's advanced sensor to-DSP systems. Its field-tested technology produces real-world results!
PCI Express Host Interface
The multi-channel SL100/SL240/SL500 PCI Express (PCIe) bus interface cards are available in PCIe and XMC form factors. This allows a computer-processor-based host to initialize and configure the sFPDP interface as a source and/or destination for data. The SL100/SL240/SL500 register set and the driver API provide extreme flexibility in data control and topology configuration. The included applications allow for benchmark testing, board configuration and user interface for board status and control.
Design Characteristics
With support for 5.0 Gb/s transmission rates between interconnected subsystems separated by as much as 50 km and low-latency performance to match, SL100/SL240/SL500 sFPDP technology is ideal for many of today's high-throughput DSP applications like that shown in the diagram below.
SL100/SL240/SL500 boards employ hardware-based insertion of data into fixed frames with flow control to keep the data connection open and operating at full speed. There is no need for complex communication protocols that cause data latency and reduce system performance as they establish and arbitrate the connection.