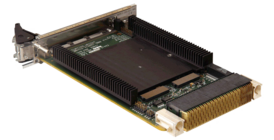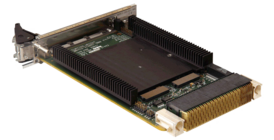 VPX3-133 3U VPX NXP Power Architecture T2080 SBC includes quad-core processor at 1.5GHz, 8 GB DDR3, I/O for Ethernet, serial, SATA, USB 2.0, PCI Express, TTL and differential discretes.
Key Features
NXP T2080 quad-core dual threaded Power Architecture with AltiVec up to 1.8 GHz
Memory

Up to 8 GB DDR3 SDRAM controlled by single or dual 64-bit controllers, with ECC
256 MB NOR flash
8 GB NAND flash (expandable)
512 KB FRAM
I/O

(2) 10/100/1000 Ethernet ports (1000-X capable)
(1) XMC site, x4 PCIe Gen2
(2) RS-232 and up to (2) RS-422 asynchronous serial channels
(1) SATA channel and (4) DIO
Fabric Interconnect Ports

Fabric Ports are configurable as:
1 x8 lane
2 x4 lane
and 8 x1 lane PCI Express Gen2 fabric ports
Operating Systems

LynxOS
VxWorks 6.9 BSP, Driver Suite
VxWorks 7.0 BSP, Driver Suite
Curtiss-Wright developed Linux
VxWorks 653
Green Hills INTEGRITY-178
SYSGO PikeOS
Curtiss-Wright U-Boot providing a comprehensive suite of system debug, exerciser, and update functions, BIT, and non-volatile memory sanitization functions
Additional Features

Designed for embedded, rugged embedded and military/aerospace applications, both air- and conduction-cooled
VPX/OpenVPX format with support for 8-slot profiles
Support for Curtiss-Wright's TrustedCOTS
Support for NXP's Trusted Boot
Applications
Mission computer applications
ISR applications
Controllers
VPX3-133 3U VPX NXP T2080 Processor Card
The VPX3-133 3U VPX Power Architecture Single Board Computer (SBC) is designed with the NXP QorIQ T2080 processor. The T2080 with its 4 dual threaded 64-bit Power Architecture cores, each equipped with an Altivec vector processing engine, provides an impressive amount of processing performance in an exceptionally low power footprint. The VPX3-133 OpenVPX SBC takes advantage of the T2080's processing power and combines it with an extensive I/O complement to provide an ideal platform for a wide range of embedded, rugged embedded and military/aerospace applications. Available in a full range of environmental grades, the VPX3-133 SBC is up to the challenging task of delivering high-density computing that packs the greatest functionality into the smallest standard form factor.
The VPX3-133 is supported by Wind River VxWorks 6.9 and 7.0 and 653, Green Hills INTEGRITY-178, and SYSGO PikeOS and Linux .
For applications that demand the highest levels of hardware and software protection, or for system designers looking to protect their IP when deployed, the VPX3-133 provides information assurance with Curtiss-Wright's TrustedCOTS and NXP's Trusted Boot technologies and capabilities.