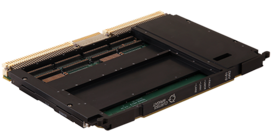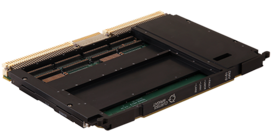 The VME-1910 brings Intel's powerful 9th Gen Xeon processor and today's latest software and security advances to legacy VME systems.
Key Features
Intel 9th Gen "Coffee Lake Refresh" E-2276ME Xeon processor

6-core (12-thread) CPU at 2.8 GHz with Turbo to 4.5 GHz

Up to 32 GB DDR4 at 2,400 MT/s with ECC
Up to 256 GB high-performance NVMe on-board storage
Supports two PMC/XMC expansion mezzanines
Support for leading operating systems

Linux (CentOS and Red Hat Enterprise Linux (RHEL))
Wind River VxWorks 7
Microsoft Windows 10
Green Hills Software INTEGRITY
Lynx Software Technologies LynxOS

Trusted Computing features

Curtiss-Wright TrustedCOTS Trusted Boot protection
Intel TPM 2.0 with FIPS and CC certification
Intel Boot Guard for verified/trusted boot
UEFI Secure Boot
SSD encryption

Available in air-cooled and conduction-cooled versions
Applications
Legacy VME system upgrades
General computing and mission processing
Systems requiring demanding storage, data logging and sensor processing requirements
VME-1910 VME 9th Gen Intel Xeon Processor Card
High-Performance SBC with Intel 9th Gen "Coffee Lake Refresh" Xeon Processor
Enhanced Processing and Security for VME Systems
Bring the latest high-performance Intel processing and Trusted Computing protections to your VME systems with the VME-1910 single board computer (SBC).
Upgrade VME systems with cutting-edge processing technology
Protect critical data with enhanced security capabilities
Future-proof your investment
Featuring the Intel 9th Gen Xeon E "Coffee Lake Refresh" processor, the VME-1910 is a perfect replacement for legacy SBCs, bringing new life and increased performance into systems required to offer higher levels of functionality than previously deployed.
Upgrade VME Systems with Cutting-edge Processing Technology
Leveraging Intel's first-ever embedded Xeon six-core processor with integrated graphics, the VME-1910 is designed to deliver over 60% more processing power than previous four-core designs, and a whopping 35x the performance of Intel's original Core2Duo processor – all in a VME board that's pin-compatible with many previous generations of Curtiss-Wright SBCs.
Protect Critical Data with Enhanced Security Capabilities
Armed with modern Trusted Computing features and mechanisms, such as an Intel TPM 2.0 hardware device for key management, Intel Boot Guard for verified/trusted boot, UEFI Secure Boot, SSD encryption, and Curtiss-Wright TrustedCOTS Trusted Boot protections, the VME-1910 provides enhanced protection against malicious cyber threats.
Future-proof Your Investment
Not only can the VME-1910 bring significant technological advancements to older systems, but it's designed with the future in mind. The board features Curtiss-Wright's Helix VME technology, eliminating reliance on obsolete VME interface technology and protecting the viability of VME systems for years to come. And with a 10+ year availability, the VME-1910 provides many years of availability without the risks of DMS obsolescence.