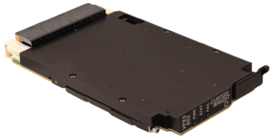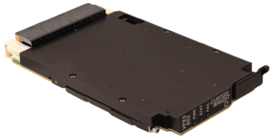 The VPX3-652 3U OpenVPX Ethernet Switch is a fully features Layer-2 managed switch designed to support advanced network architectures for the defense industry.
Low Power 3U VPX Managed Ethernet Switch
3U VPX form factor, complies with OpenVPX/VITA 65 standards

Supports OpenVPX profiles MOD3-SWH-16T and MOD3-SWH-8U12T

Up to 20 Gigabit Ethernet ports with flexible port configurations to rear VPX backplane:

12x 10/100/1000Base-T ports plus 8x 1000Base-X (SerDes) ports
OR 16x 10/100/1000Base-T ports
Additional front panel Ethernet port on air-cooled models

High-performance Layer 2+ network features:

Non-blocking architecture supports tri-speed operation (10/100/1000Mbps) with auto-negotiation and auto-MDIX on Base-T ports
Feature-rich networking support includes IPv4/v6 support, VLANs, IGMP multicast, QoS, MSTP/RSTP, link aggregation, port mirroring, and jumbo frames
Static routing for WAN connectivity
Energy Efficient Ethernet (EEE) with cable diagnostics. Status LEDs on air-cooled models
Hardware support for IEEE-1588 Precision Time Protocol (PTP)
Powerful in-band (HTTP/Telnet/SNMP) and out-of-band (RS-232) switch configuration and management

Fast boot architecture with extensive Built-In Test (BIT) and declassification capability for secure erasure
Extremely low power operation (<15W typ)
Air-cooled and conduction-cooled versions
Industry leading technical and life-cycle management support
VPX3-652 3U 20-port Ethernet Switch
The VPX3-652 is a fully-featured Layer-2 managed Ethernet switch designed to support advanced network architectures for the defense industry.
The VPX3-652 3U VPX Ethernet Switch provides up to 20 ports of copper Ethernet connectivity. Models are available with 16 ports of tri-speed 1000Base-T backplane connections, or with 12 ports of 1000Base-T plus an additional 8 ports of 1000Base-X (SerDes) connections for mixed Base-T/Base-X environments. An additional 1000Base-T port is available on the front panel for air-cooled modules.
All Base-T ports feature auto-negotiation and auto-MDI/MDIX to ensure trouble-free interfacing. Base-X (SerDes) ports are typically used for board-to-board interconnects within a system, or can interface directly to optical transceivers for external fiber connectivity.
Part of an extensive line of Ethernet Switches and Routers from Curtiss-Wright, the VPX3-652 3U VPX Ethernet Switch supports an extensive set of Layer 2 switching features. Its flexible management interfaces, including a powerful command line interface (CLI) for setup and configuration, as well as SNMP and Web management interfaces, accelerate development time to market and simplify maintenance support. In addition, special features like Built-In Test (BIT) make the VPX3-652 ideal for building tactical deployed networks.
Reduce cost, risk, and time to market with COTS hardware
Our broad selection of open-architecture, commercial off-the-shelf (COTS) rugged embedded computing solutions process data in real time to support mission-critical functions. Field proven, highly engineered and manufactured to stringent quality standards, Curtiss-Wright's COTS boards leverage our extensive experience and expertise to reduce your program cost, development time and overall risk.
Read the Brochure