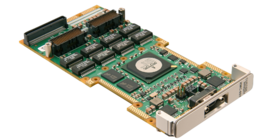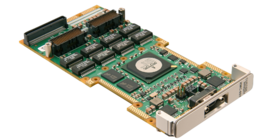 Download the datasheet on the XMC-651 an XMC 12-port Gigabit Ethernet switch.
12-port Gigabit Ethernet switch

Supports 8-port 10/100/1000Base-T plus 4 ports SerDes (1000Base-BX)

Non-blocking line-speed Ethernet switching
Supports jumbo packets up to 16K bytes
IEEE 802.3 compliant
Managed Layer-2 features include VLAN, L2 multicast, QoS services
Support for port mirroring and link aggregation
Flexible I/O on Pn4 and Pn6

XMC or PMC with Pn4 IO supports 8 ports Base-T
XMC with Pn6 IO supports 5 ports Base-T, or 3 ports Base-T plus 4 ports Base-X (SerDes)
XMC with Pn4/Pn6 IO supports 8 ports Base-T on Pn4 plus 4 ports Base-X (SerDes) on Pn6

No software required, only power and I/O from basecard
Range of air and conduction-cooled ruggedization levels available
P/XMC-651 Rugged Ethernet Mezzanine Switch
The XMC/PMC-651 12-port Gigabit Ethernet Switch is designed to support "in-chassis" networks with managed Layer-2 switching capabilities. Part of a family of Gigabit Ethernet switching/routing products from Curtiss-Wright Defense Solutions, the XMC-651 XMC/PMC Ethernet Switch is an ideal low cost zero-slot Ethernet switching solution that can be added to any basecard with an XMC mezzanine slot. These switches are designed for rugged applications with backplane I/O and are offered in a full range of ruggedized air- and conduction-cooled versions.
The XMC-651 and PMC-651 both offer 8 ports of Gigabit Ethernet supporting tri-speed 10/100/1000Base-T with auto-negotiation and auto-MDI/MDIX crossover support. For some XMC variants, an additional 4 ports are offered, supporting SerDes (1000Base-X) GbE, providing flexibility when connecting in-chassis devices.
The XMC/PMC-651 family supports Layer-2 multicast, where a single source device can send data to multiple destination devices. This technique is extremely powerful when distributing data such as video and telemetry information. The PMC/XMC-651 Ethernet Switch family offers full support for jumbo frames up to 9K bytes.
The 651 family connects only to the XMC and PMC connectors to obtain power and for Ethernet I/O connections. No software driver is needed.