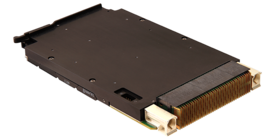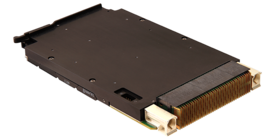 The Curtiss-Wright VPX3-655 is a versatile Ethernet switch supporting 1G, 10G and 40G ports, including 12x 10GBASE-T ports, for high-speed connectivity in modular embedded computing applications.
Key features
Fully managed multi-layer Ethernet switching in a standards-compliant module
20 high-speed Ethernet ports offering 8x10GBASE-KR and 12x 10GBASE-T interfaces

10GBASE-KR ports also support 1000BASE-KX and 40GBASE-KR4 configurations
10GBASE-T ports also support 1000BASE-T and 100BASE-TX for legacy system interfacing, or where lower speeds are sufficient

Includes IEEE-1588v2 PTP features for transparent time synchronization
Available in standard air-cooled and conduction-cooled rugged form factors
Applications
Mission computing for manned and unmanned vehicles that fuse and process high-speed sensor data
Maximum flexibility to connect internal and external Ethernet systems and sensors
Increased connectivity speeds between processing modules and between external systems

Pin compatible performance upgrade for 1 Gigabit systems

Real-time signal processing requiring high throughput data streams
VPX3-655 Versatile 1G/10G/40G Ethernet Switch Module
Backplane SerDes and BASE-T interfaces
The Curtiss-Wright VPX3-655 is a very versatile Ethernet switch supporting 1G, 10G and 40G ports, including 12x 10GBASE-T ports, providing high-speed connectivity for modular embedded computing applications.
10GBASE-T for 10Gbps high-speed interfaces over twisted pair cabling
Backplane SerDes ports supporting 1G, 10G and 40G for fast internal connections
Easily upgrade existing 1G systems to support 10G and 40G
Bring new levels of performance to your ISR and EW systems with the VPX3-655
Modern mission systems ingest, fuse, and communicate with a range of sensors to build an integrated picture of their environment and enable comprehensive situational awareness. Ingesting data from sensors – such as high-resolution cameras, full-spectrum EW systems, and wideband tactical datalinks that distribute full-motion video – requires high-speed data interfaces. And, processing this sensor data requires multiple interconnected high-speed processors.
The VPX3-655 provides connected processing systems with high-speed 40G or 10G backplane links to processors, as well as powerful 10G connectivity to sensors, datalinks, and other computers using standard twisted-pair cabling. It provides an upgrade path to 10G Ethernet for systems using earlier generation 1G switches, and pairs with all Curtiss-Wright 3U OpenVPX processor card modules.
10G switching over twisted pair cabling
The VPX3-655's 12x 10GBASE-T interfaces enable faster connections over traditional twisted pair cabling. This sought-after networking feature brings 10x higher speeds to equipment that needs it, while maintaining compatibility with devices that use legacy 1000BASE-T or 100BASE-TX standards.
1G, 10G and 40G backplane interfaces
Supporting today's Ethernet backplane traffic needs, the VPX3-655 offers up to 8x pin-efficient SerDes Ethernet interfaces. These interfaces can be used within the system to consolidate sensor data to, from and between processing modules. When configured as 10GBASE-KR, the ports provide link training and auto-negotiation, and are compatible with 1000BASE-KX link partners. Groups of four lanes can be combined into a single 40GBASE-KR4 interface, offering one or two high speed 40G Ethernet interfaces for fast network traffic.
Support for time synchronization and critical traffic management
The VPX3-655 fully supports IEEE-1588v2 to provide very accurate (sub-microsecond) precision clock synchronization between network nodes. For critical real-time traffic management, the VPX3-655 switch incorporates software features for traffic scheduling and prioritization. These features enable SWaP-optimized converged networks for time-sensitive applications that require multiple real-time data streams.
Easily upgrade existing 1G systems to support 10G and 40G
Backplane pin compatibility with legacy 1G switch modules such as the VPX3-652 makes for a drop-in 10G upgrade to existing systems, subject to backplane signal integrity compatibility. Systems can continue to operate at 1G, or take advantage of 10G or 40G rates on some or all interfaces.
Reduce cost, risk, and time to market with COTS hardware
Our broad selection of open-architecture, commercial off-the-shelf (COTS) rugged embedded computing solutions process data in real time to support mission-critical functions. Field proven, highly engineered and manufactured to stringent quality standards, Curtiss-Wright's COTS boards leverage our extensive experience and expertise to reduce your program cost, development time and overall risk.
Read the Brochure