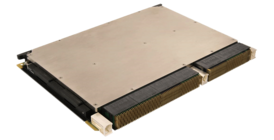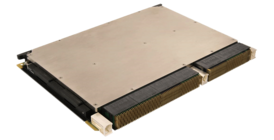 The rugged CHAMP-XD2M 6U OpenVPX Intel Xeon D processor module is designed for use in high memory capacity, compute-intensive rugged applications.
Key Features
Xeon D 16-core processor (870 GFLOPS @ 1.7 GHz) 
Alternative Xeon D SKUs available 
128 GB DDR4 @ 2133 MT/s (34 GBps over 2 ECC channels) 
Four ports of 40G/10G Ethernet or DDR/QDR/FDR10 InfiniBand on OpenVPX data plane 
Native dual KX 1 GigE or KR 10 GigE ports on OpenVPX control plane 
XMC PCIe up to Gen3, designed for up to 25W thermal dissipation 
Dual x16 PCIe Gen3 on OpenVPX expansion plane with switch 
PCH integrated in Xeon D SoC 
Core Function FPGA (Xilinx UltraScale) and IPMI (Microchip SmartFusion) 
Air and conduction-cooled 
Applications
Sensor fusion 
Mobile platform server 
Synthetic Aperture Radar (SAR) 
Signal Intelligence (SIGINT) 
Electro-Optical/Infrared (EO/IR) 
Mission computing 
Industrial server applications 
CHAMP-XD2M 6U VPX Intel Xeon D Processor Card
Imaging sensors, RADAR, and SIGINT provide an overwhelming amount of data that needs to be stored before it can even be processed, but current solutions offer far from enough memory to store it. By providing more memory capacity on a single board, systems can remain SWaP-C optimized, and data can be connected and processed with ease.
At Curtiss-Wright, we removed one Xeon D from our dual CHAMP-XD2 board to bring you the maximum amount of memory possible on a board and increase memory capacity by 400%, removing the obstacle of data storage and allowing you to get the data you need onboard and processed faster than ever.
The 6U OpenVPX CHAMP-XD2M rugged Intel Xeon D module is designed for use in high memory capacity, compute-intensive industrial, aerospace and defense applications, enabling developers of High-Performance Embedded Computing (HPEC) systems to take full advantage of the unmatched performance of today's leading-edge Xeon D processor architecture.
Leveraging Curtiss-Wright's extensive 6U OpenVPX ecosystem, the CHAMP-XD2M forms the centerpiece of high memory capacity and high core count HPEC system architectures. Other Curtiss-Wright 6U OpenVPX modules available for HPEC configurations include the dual Xeon D based CHAMP-XD2, VPX6-6802 Ethernet/InfiniBand Switch, CHAMP-GP GPGPU Processors, and CHAMP-FX4 FPGA-based ADC/DAC modules.