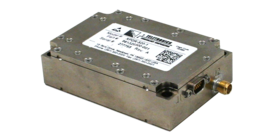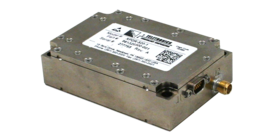 The XPDR-520 series transponder is the next generation of C-band transponders.
Features
Miniature transponder
RCC-262-02 compatible
Solid-state design
C-band 5.4-5.9 GHz
High-efficiency power supply
Programmable via a serial COM port

Receiver and Transmitter Frequency
Pulse Width
Code Spacing
Reply Delay

Sensitive superheterodyne receiver
Crystal-controlled frequency stability
Small form factor (5 cubic inches)
Lightweight (6 ounces)
Mismatch protected from high antenna VSWR
No pressurization required
Applications
Instrumentation tracking radar
Range expansion/enhancement
Flight tests of various airborne vehicles
TTC XPDR-520 Radar Enhancing C-Band Transponder
The XPDR-520 series transponder is the next generation of C-band transponders. It is used primarily to augment and enhance the tracking capabilities of C-band ground radars. The unit provides 20 watts of pulsed RF output with typical power consumption of 5 watts, giving this product line one of the lowest current draws in the industry today.
The XPDR-520 is backward-compatible so that its form-factor matches legacy systems. There is no need to replace existing technology. The transponder is programmable with the TTCWare configuration application or over a serial communications port using terminal emulation. An optional RS-485 multi-drop interface is also available.
Reducing Time and Cost of Ordnance Testing with Modern Transponder Designs
Flight safety officers need to accurately track targets, experimental aircraft, and ordnance in real-time during development and sample tests and during live firing exercises to inform any flight termination decisions. Using transponders to provide location data by responding to radar signals has been proven reliable, but traditional transponders employ fixed frequency technologies and older design are creating scheduling, time, and cost issues. This white paper examines how the use of modern transponders can reduce setup time, lower costs, and require less future planning and maintenance than traditional designs.