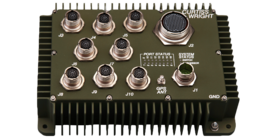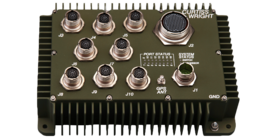 The Digital Beachhead Ethernet Switch and Vehicle Management Computer provides 16 ports of tri-speed 10/100/1000Base-T Ethernet. 
16-port Gigabit Ethernet Switch

Non-blocking architecture supports tri-speed operation (10/100/1000Mbps) with auto-negotiation and auto-MDIX
Energy Efficient Ethernet (EEE) with built-in status LEDs and cable diagnostics
Feature-rich networking support includes IPv4/v6, VLANs, IGMP multicast, QoS, MSTP/RSTP, link aggregation, port mirroring, jumbo frames
Powerful in-band (HTTP/Telnet/SNMP) and out-of-band (RS-232) switch configuration and management
Hardware support for IEEE-1588 Precision Time Protocol with nanoseconds timing synchronization

Vehicle Management Computer with Flexible Vetronics Interfaces

Vehicle Management Framework (VMF) provides a software interface for rules-based vehicle management and control, with interfaces to CBM+/HUMS and VICTORY
Vehicle interfaces include multiple CANbus ports, audio and video (camera) interfaces, and analog/digital IO interfaces
Local display (VGA/DVI) and remote monitoring via web/HTTP services

VICTORY Architecture Compliance

Support for VICTORY Data Bus and Platform Services, including centralized distribution of time, position, speed, heading, and orientation
External GPS (DAGR compatible) and Inertial Navigation interfaces
Optional internal GPS receiver (GB-GRAM or Polaris Link) saves valuable vehicle space
Can chain one GPS to multiple DBH units
Interfaces support 1 PPS input for time accuracy
VICTORY and GVA compliant MIL-STD-38999 pinouts

Designed for Rugged Military Applications and Environments

Small footprint: 10.5 x 7.5 x 3.0 inches
Low weight: 6.5 lb
Wide operational temperature: -40°C to +71°C natural convection design also supports cold-plate to +85°C
28V DC power compliant to MIL-STD-1275D with optional Nuclear Event Detector (NED)
Designed to meet MIL-STD-810 and MIL-STD-461
DBH-670 Digital Beachhead Ethernet Switch and Vehicle Management Computer
The Digital Beachhead combines an Ethernet switch with a powerful Vehicle Management Computer to provide essential network services to ground vehicles.
Housed in a small and lightweight rugged chassis, the Digital Beachhead provides 16 ports of tri-speed 10/100/1000Base-T Ethernet with a variety of flexible network switching features such as VLANs, multicast, and Quality of Service.
The Digital Beachhead also features a multi-core Arm based Vetronics computer, with flexible interfaces to monitor and control essential vehicle systems. A large number of vetronics interfaces combined with a powerful software framework simplifies the integration of Digital Beachhead into new and legacy vehicles.
Digital Beachhead is available with pre-integrated VICTORY software, providing VICTORY Data Bus and Platform services, including Management, Access Control, Data Protection, and network distribution of GPS/IMU data such as time, position, orientation, heading, speed, etc. An optional internal GPS receiver provides additional SWaP savings. 
The Digital Beachhead truly simplifies the network modernization of today's combat vehicles.
Further Reading
David Jedynak, Chief Technical Officer, COTS Solutions wrote about A Fully Integrated COTS Approach for PNT to Ground Vehicles in GPS-Denied Environments in Military Embedded Systems Magazine.
Modular Open Systems Approach (MOSA) Solutions
Building on our years of experience and participation in the development of open standards, we design our range of semi-rugged to ultra-rugged solutions to bring the benefits of a Modular Open Systems Approach (MOSA) architecture to deployed ground, airborne, and naval platforms.