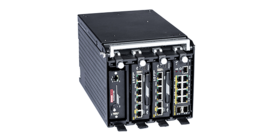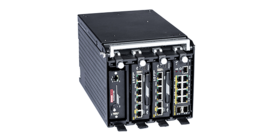 Providing a one-stop-shop for commercial tactical encryption solutions utilizing Cisco components for tactical networks
Supported Cisco technologies include: 
Cisco Stealthwatch to outsmart emerging threats with industry-leading machine learning and behavioral modeling. Stealthwatch is used to detect advanced threats and respond to them quickly. It is also employed to detect malicious patterns in encrypted traffic, and quickly detect zero-day malware, insider threats like command-and-control communications and data exfiltration, advanced persistent threats, and other sophisticated attacks. In addition, Stealthwatch can store telemetry data for long periods and uses advanced analytics to conduct better investigations.
The Cisco Adaptive Security Virtual Appliance (ASAv) brings full ASA firewall and VPN capabilities to virtualized environments to help safeguard traffic. It provides security technologies popular in U.S. DoD tactical networks, in a PacStar-supported tactical package.

The Cisco Embedded Services Router (ESR) 5921 is designed to operate on small platforms. It extends the use of Cisco IOS into extremely mobile and portable communications systems. It also provides highly secure data, voice, and video communications to stationary and mobile network nodes across wired and wireless links. The Cisco ESR 5921 provides the same functionality as the hardware-based Cisco ESR 5915 – ensuring full interoperability and feature compatibility with the hardware ESR – but in a virtualized form factor.
PacStar Tactical Cybersecurity Solutions with Cisco Technology
Some examples of solutions providing extensive cybersecurity protection to tactical networks utilizing Cisco technologies include the PacStar 400-Series family of small communications modules, and PacStar IQ-Core Software, which is optimized for Cisco technologies with interoperability and extensive support for tactical and virtualized Cisco products. Another example is the PacStar Secure Wireless Command Post (SWCP) Wi-Fi, a small modular communications package that enables classified wireless and mobility for smartphones, tablets, and laptops in deployed, expeditionary and tactical environments.