Leaders in high-speed, high-precision motion control solutions for more than 70 years
Curtiss-Wright Drive Technology is a global leader in the development and manufacture of electromechanical and electrohydraulic drive systems used in the industrial and defense industries. We provide both industries with comprehensive solutions for a variety of rugged applications, as well as a full portfolio of cost-effective engineering and support services.
Tackle more demanding terrain, reach higher speeds, and seize new opportunities
Our motion control and stability systems combine more than 70 years of engineering expertise with state-of-the-art simulation and test capabilities to deliver new levels of reliability, flexibility, and precision. We specialize in customized drive services that meet the most demanding industrial and defense requirements.
With rugged and scalable systems designed for a life cycle of up to 30 years, Curtiss-Wright Drive Technology takes you wherever you need to go.
Stabilize Payloads in Motion
Whether on the ground or in the air, you can stabilize payloads in motion with rugged, high-precision, and fully configurable motion control systems. Explore our scalable motion control systems developed and manufactured for complex and demanding industrial applications.
Read the Brochure
Curtiss-Wright Drive Technology
This video discusses the creation of an electromechanical system that has to fulfill three requirements: move heavy materials, work precisely, and operate under high safety requirements.
Meet key program requirements with modular motion control solutions
Curtiss-Wright's "building block" approach to aiming and stabilization systems delivers the target and turret stabilization needed for the critical precision drive systems onboard many of today's combat vehicles. In this case study, learn how Rheinmetall Defence Australia partnered with us to meet the needs of Land 400 Phase 2 with a custom, high-precision motion control solution.
Achieve faster, more precise control of mission-critical defense systems
The number of complex defense systems that can benefit from a ruggedized, scalable motion control solution for greater control and increased stability is almost endless. Here are just seven.
High-Speed, High-Precision Motion Control Solutions for Critical Defense Systems
See our full range of scalable solutions designed to control and stabilize defense systems.
Read the Brochure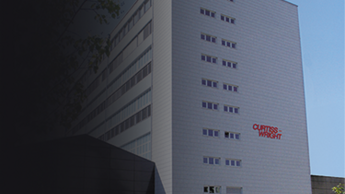 Explore our motion control systems manufacturing site
Our electromechanical drive systems for the industrial and defense industries are designed and manufactured in an EN9100:2018 certified manufacturing facility that is home to state-of-the-art technologies, features, and processes. Our virtual tour experience provides a close look at how our focus on quality, reliability, and environmental protection allows us to tackle more demanding terrain, reach higher speeds, and seize new opportunities.