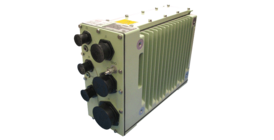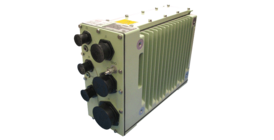 The MPMC-933x is a 3-slot 3U VPX Multi-Platform Mission Computer that can be configured to meet the needs of nearly any subsystem requirements. 
Key Features
MPMC-933x Vetronics System Physical Specification

Dimensions (L x W x H): 10.77 x 3.97 x 7.97" (27.35 x 10.08 x 20.24cm)
Weight: 12.9 lb (5.85kg)

Single board computer based on NXP MPC8610 PA with e600
VICTORY-compliant 12-port L2 Gigabit Ethernet Switch with host, NXP P2020 processor
Natural convection system for -46°C to +71°C environment
Designed and tested for nuclear survivability
Qualified to MIL-STD-810 and MILSTD-461
Designed to support 2 Level Maintenance with a Line-Replaceable Module architecture
Applications
Fire control
Weapons control
Vehicle control/management
Turret control
Missile control
MPMC-933x Rugged 3U 3-slot Ground Vehicle Computer
Reduce your program risk and speed your time to market with the MPMC-933x family of 3U 3-slot rugged mission processing systems. These leading edge, flexible and rugged processing systems can be readily configured to meet the needs of any military or aerospace requirements, from benign laboratory to harsh avionics environments. The MPMC-933x Mission Management System incorporates a flexible and rugged processing system which can be easily configured to meet the needs of any military requirement. From benign laboratory to harsh deployed ground vehicle environments, the MPMC-933x is a rugged embedded computer designed to fill multiple roles within ground vehicles.
The MPMC-933x system supports VPX form factor modules in a compact size, weight and power (SWaP) optimized package. Mission system developers can greatly reduce up-front engineering costs and platform scale up time by immediately building off the Commercial Off-the-Shelf (COTS) solution. The MPMC-933x incorporates rugged computing and networking component packages allowing developers to focus on software and algorithm development, while meeting I/O, performance, and environmental program requirements. If you need customization of this system to your program requirements, click here to learn more about our system integration and program management services.
System Integration, Engineering, Test Planning & Verification Services
When you have a system integration challenge, reach out to our system design team as early in your program cycle as possible and let a Curtiss-Wright system architect put their system integration expertise to work for you. Our unmatched breadth of system integration capabilities helps to eliminate your design risk to ensure the success of your program's system development, integration, and deployment.
See the Full Scope of Our Services