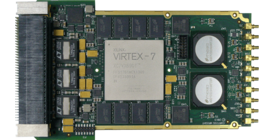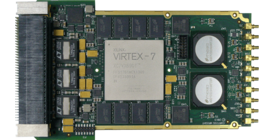 The VPX3-530 is a rugged dual-channel 4GSPS ADC/DAC card with a user-programmable AMD Virtex-7 FPGA in a 3U VPX ADC/DAC form factor. 
Key Features
Dual 4 Gsps 12-bit or Quad 2 Gsps 12-bit analog inputs/li>
Dual 5.6 Gsps 14-bit DAC update rate (maximum 2.8 Gsps data rate)
Multi-board, multi-channel synchronization
AMD user-programmable Virtex-7 VX690T FPGA
Up to 8 Gbytes DDR3L SDRAM (64-bit data paths)
3U OpenVPX compliant
Onboard power and temperature measurement
VxWorks and Linux host support
Air- and Conduction-cooled variants
Applications
Radar
SIGINT/ELINT
Electronic Warfare (EW)
VPX3-530 3U VPX Virtex-7 FPGA ADC/DAC
The VPX3-530 combines multiple channel high-speed ADCs and DACs with a user-programmable AMD Virtex-7 FPGA in a range of rugged build formats for demanding applications such as SIGINT, radar and Software Defined Radio (SDR).
Up to four analog inputs are supported by the VPX3-530. These analog inputs can be configured as dual 4 Gsps/12-bit using native interleaving of the ADC devices or four 2 Gsps/12-bit channels. Each analog input is AC coupled via baluns for maximum ADC performance.
Complementing the analog inputs are two 5.6 Gsps 14-bit DACs. Each DAC has a maximum data rate of 2.8 Gsps. Outputs above 2.8 Gsps are achieved through data interpolation modes.
Sample rates above 2 Gsps use interleaved ADC modes. For optimal ADC input performance, the VPX3-530 is available in options for up to 2 Gsps ADC or 2 to 4 Gsps configurations. See the product sheet for performance characteristics for the analog input and outputs.
All analog I/O connectivity is provided through the front panel via rugged SSMC connectors.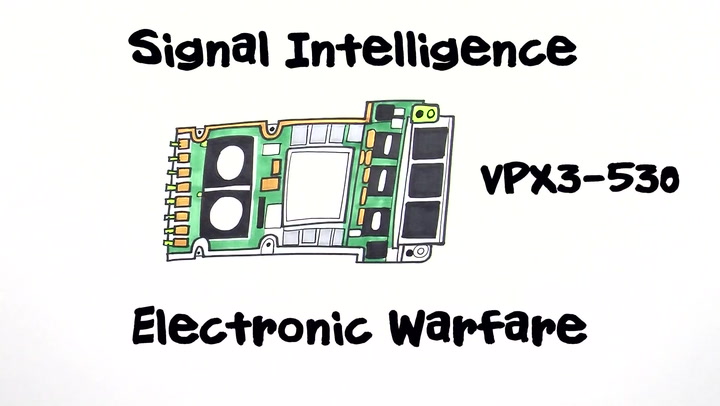 Meeting the demands of SIGINT and EW with the VPX3-530
With increasingly advanced threats in signals intelligence and electronic warfare, systems need to be reliable and SWaP-optimized. Stay ahead of the game with Curtiss-Wright and the VPX3-530 ADC/DAC Module.