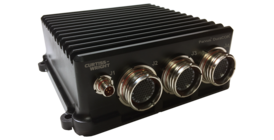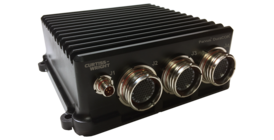 The Parvus DuraCOR 312 is an ultra-small form factor (USFF) modular mission computer built around the NVIDIA Jetson Tegra X2 (TX2) supercomputer-on-a module integrated in a miniature rugged chassis with MIL-grade high-density connectors.
Key Features
Industrial NVIDIA Jetson Tegra X2i SOM
6-core Armv8 (Cortex-A57 + Denver 2)
256 CUDA core Pascal GPU capable of 1.5 TFLOPS 16-bit floating point
ECC Memory and full industrial temp
Miniature SWaP-optimized form factor:
Small size: ~2.0 x 5.2 x 5.4 (5.2 x 13.2 x 13.6 cm)
Lightweight: < 2.0 lb (< 0.9 kgs)
Power: < 30 W (est)
Rugged IP67 chassis with micro-mini MIL-performance circular connectors
Modular I/O architecture: up to three add-on Mini-PCIe I/O cards (avionics and vetronics I/O scalability)
Multiple rugged Flash storage options: eMMC + M.2 / removable 2.5 SATA SSD
28 VDC MIL-1275/704/DO-160 power supply for aircraft and ground vehicles; optional 50 ms power hold-up
Qual testing pending for extreme MIL-STD- 810G/DO-160 thermal, shock, vibration, altitude, humidity; also MIL-STD- 461F/DO-160G EMI/EMC
Applications
In-vehicle and airborne rugged mission computing and sensor integration
High-performance embedded computing (HPEC), general-purpose graphics processing and artificial intelligence (AI)
SWaP-sensitive C4ISR automomous vehicles, ISR, EW and targeting systems
Parvus DuraCOR 312 Modular Mission Computer
The Parvus DuraCOR 312 is an ultra-small form factor (USFF) modular mission computer built around the high-performance, yet power efficient NVIDIA Jetson TX2i  supercomputer-on-a module integrated in a miniature rugged chassis with MIL-grade high-density connectors. Combining powerful NVIDIA Pascal/CUDA-core GPU signal processing with 64-bit Armv8 heterogeneous multi-processing (HMP) for size, weight, power and cost (SWaP-C) sensitive mobile, airborne, ground, manned and unmanned vehicle and sensor platforms, the unit integrates a massively parallel, many-core architecture boasting one of the highest computing FLOPS-per-watt architectures on the market. Thanks to the units Pascal GPU architecture (supporting Max-Q and Max-P dynamic energy profiles), larger memory bandwidth, and support for CANbus, the DuraCOR 312 can deliver up to twice the performance or power efficiency of TX1-based systems together with native vehicle bus interfaces. The unit also deliver an unparalleled modular system design, boasting multiple Mini-PCIe I/O card slots, high-speed M.2 internal storage, removable SATA Flash SSD capabilities, and an aerospace-grade power supply supporting 50ms power hold-up in a fanless IP67-rated mechanical package designed for wide temperatures and harsh shock and vibration, along with ECC memory for mitigation against single event upsets at high altitudes.
While the low-power DuraCOR 312 is miniature in size, this rugged COTS mission computer LRU packs performance with six (6) Armv8 processor cores and 256 Pascal/CUDA-core GPU along with multiple add-on I/O and storage expansion options to support additional vetronics/avionics interfaces beyond its already comprehensive set of base I/O (which include Ethernet, CAN, serial, USB, DIO and video ports). The unit comes with on-board eMMC Flash and supports an optional internal M.2 SSD (NVMe/SATA), as well as optional removable 2.5 SATA SSD storage for high capacity storage and information assurance requirements. Like other DuraCOR models, the 312 leverages both an ecosystem of rugged COTS Mini-PCIe modules (including MIL-STD-1553 and ARINC429 avionics databus interfaces) and Curtiss-Wrights responsive, cost-competitive application engineering services to deliver Modified COTS (MCOTS) variants quickly and without a traditional NRE fee.
With military-grade ruggedization to extend Jetson TX2i operation, the DuraCOR 312 is designed to operate reliably in extremely harsh environments, making it well suited on-board civil and military aircraft and vehicle platforms. Comprehensive qualification testing is pending to MIL-STD-810G, MIL-STD-461F, MIL-STD-1275D, MIL-STD-704F and RTCA/DO-160G conditions for environmental, power and EMI (thermal, shock, vibration, dust, water, humidity, altitude, power spikes/surges, conducted/radiated emissions and susceptibility). In addition, optional 50 ms power hold-up capabilities are supported for MIL-STD-704F aircraft power switch-over requirements.
Size, Weight, Power and Cost
Today's aerospace, commercial and defense applications demand high performance in small form factors