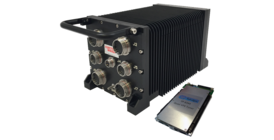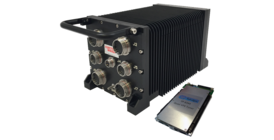 Electronic Warfare System is a ruggedized compact 3U VPX tuner system that combines state-of-the-art multichannel receivers, Intel Xeon D multi-core DSPs, and AMD Kintex-7 FPGAs.
Key Features
SWaP-optimized signal processor
4 High-performance tuner channels

20 MHz to 6 GHz
40 MHz IF passband

Intel Xeon D Octal Core DSP
AMD Kintex-7 410T FPGA processor

User Programmable - PCIe/GTP

High bandwidth I/O options

1 and 10 Gigabit Ethernet, USB

MIL-STD-810/MIL-STD-461 qualified
Applications
Signal Intelligence
Electronic Warfare
Electronic Support
Products included in the system:
MPMC-9323 Chassis Enclosure
VPX3-482 CHAMP-XD1 DSP
XF07-523 AMD Kintex-7 FPGA
Power Supply
XMC-651 Ethernet Switch (option)
XMC-554 SSD Flash Memory (option)
Electronic Warfare System - Silver Palm Tuner
Electronic Warfare (EW) platforms face an increasingly difficult task in terms of RF channel density and signal evasiveness. Curtiss-Wright and Silver Palm Technologies have collaborated to develop an open architecture RF signal processing system to address this challenge.
The Curtiss-Wright EW multi-channel tuner system is a ruggedized compact 3U VPX system that combines state-of-the-art multichannel receivers, Intel Xeon D multi-core DSPs, and AMD Kintex-7 FPGAs. The Silver Palm SP-8344 card provides four high performance configurable tuner channels. The Intel Xeon D octal-core (12-core optional) CHAMP-XD1 DSP processor card provides the EW signal processing and system control. Signal processing in the system is augmented by the XF07-523 XMC that provides a user programmable AMD Kintex-7 FPGA with direct interconnect to the SP-8344 tuner. The EW tuner system supports CentOS 7.2 (contact the factory for other OS options).
The EW system is a rugged compact solution to today's RF challenges. It provides multiple receiver channels and supports from 20 MHz to 6 GHz frequency coverage. The RF tuner provides the necessary bandwidth and dynamic range with low noise, processing, and for EW applications.
System Integration, Engineering, Test Planning & Verification Services
When you have a system integration challenge, reach out to our system design team as early in your program cycle as possible and let a Curtiss-Wright system architect put their system integration expertise to work for you. Our unmatched breadth of system integration capabilities helps to eliminate your design risk to ensure the success of your program's system development, integration, and deployment.
See the Full Scope of Our Services