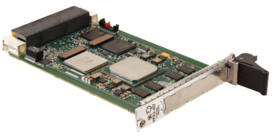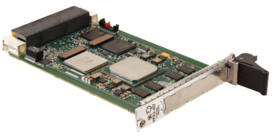 The CHAMP-XD1/VPX3-482 3U OpenVPX Intel Xeon D DSP Processor Card features high-speed DDR4 memory, Gigabit Ethernet, 10 Gb Ethernet, XMC site with PCIe Gen3 in conduction and air-cooled versions.
Key Features
Extended operating temperature Intel eTEMP SKUs
PCH integrated in Xeon D SoC
Native dual KR 10 Gigabit Ethernet ports 
16 to 32 GB DDR4 @ 2133 megatransfers per second with ECC (34 GB/s aggregate)
SSD – SATA Gen2, NAND Flash, 16 or 32 GB
XMC PCIe up to Gen3, designed for up to 25W thermal dissipation
PCIe Gen3 on 3U OpenVPX data plane with switch
Core Function FPGA with IPMI
8-lane PCI Express (PCIe) Gen3 interface to data plane
Serial ATA (SATA) controllers – up to 3 ports
USB EHCI host controllers – up to 3 ports, USB 2.0/USB 3.0
Conduction and air-cooled
Trusted Computing features, including TrustedCOTS protections and support for Wind River Titanium Security Suite
OS support: CentOS Linux, Red Hat Enterprise Linux, Wind River VxWorks 7.0, and others. Contact Curtiss-Wright for more information.
Communications support via MPI/OFED
Dolphin SuperSocket over PCIe Software
Wind River Titanium Security Suite

Compatible partner products:

Applications
Multi-mode Radar 
Synthetic Aperture Radar (SAR)
Signal Intelligence (SIGINT)
Electro-Optical/Infrared (EO/IR)
Electronic Warfare (EW) 
Mission computing 
Industrial server applications 
CHAMP-XD1 3U VPX Intel Xeon D Processor Card
For Digital Signal Processing, AI & Machine Learning
For highly compute-intensive industrial, aerospace, and defense applications, the CHAMP-XD1 processor card provides Trusted Computing features alongside leading-edge processing technology for unmatched performance. For enhanced Trusted Computing features and the SOSA Technical Standard alignment, please consider the CHAMP-XD3 DSP Card.
The CHAMP-XD1 is ideal for:
High-Performance Processing
Proven Foundation for Machine Learning
Strengthened Security Capabilities
Support for Today's Leading Open Standards
This high-performance module, designed for the rigors of digital signal processing (DSP) and emerging machine learning and artificial intelligence applications, delivers incredible processing capability through its 8 or 12-core Intel Xeon D processor. The board includes a core function FPGA for critical board functions and general purpose I/O, and includes a dedicated Intelligent Platform Management Interface (IPMI) for system monitoring and health.
Bring new levels of performance to your ISR and EW systems with the CHAMP-XD1:
High-Performance Processing
The CHAMP-XD1 combines its processor's high core count and floating-point performance with the substantial bandwidth and system-enabling features of the VITA 3U OpenVPX form-factor. Providing an extended temperature Intel Xeon D processor with 8 or 12 cores, the CHAMP-XD1 has a peak performance of 410 GFLOPS or 576 GFLOPS respectively. This is coupled with 16 or 32 GB of high capacity DDR4-2133 with a bandwidth of >17 GBps per channel with two channels per processor.
Proven Foundation for Machine Learning
The CHAMP-XD1 Xeon D processor supporting OpenVINO framework enables system integrators to have flexibility in choosing the optimal combination of functionality, interfaces, performance, and SWaP for their machine learning and artificial intelligence computing applications.
Strengthened Security Capabilities
The CHAMP-XD1 is part of Curtiss-Wright's TrustedCOTS portfolio, offering built-in Intel Trusted Computing mechanisms and flexible APIs to support secure software solutions. The CHAMP-XD1 has been tested and proven as a trusted hardware foundation for Wind River Titanium Security Suite to reduce development time, cost, and complexity for system engineers.
Support for Today's Leading Open Standards
The CHAMP-XD1 offers variants to support your specific requirements, including models developed in alignment with the SOSA Technical Standard or E-OSA specifications.
 
Compatible partner products:
Comprehensive protection throughout the product lifecycle
Curtiss-Wright goes well beyond standard approaches to Trusted Computing to provide truly secure solutions for air, ground, and sea platforms. We keep cybersecurity and physical protection in mind, from design and testing to supply chain and manufacturing. This comprehensive, end-to-end approach creates an effective mesh of protection layers that integrate to ensure reliability of Curtiss-Wright products in the face of attempted compromise.