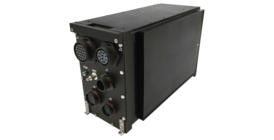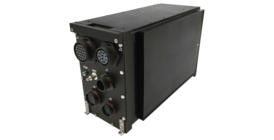 The MPMC-9350 cPCI & VPX rugged integrated systems accommodate the highest power 3U SBCs in the embedded computing market within a 5 slot forced air enclosure.
Key Features
Intel or Power Architecture Processor
3U OpenVPX architecture
5 Payload Slot System
Dimensions:

Base Plate: 10.5 x 4.88 x 7.7" (26.67 x 12.4 x 19.56 cm)
Natural Convection: 12.5 x 5.9 x 7.7" (31.75 x 14.99 x 19.56 cm)

Weight:

Base Plate: 19 lbs. (8.62 kg)
Natural Convection: 24 lbs. (10.89 kg)

28 VDC Power Input per MIL-STD-704F and MIL-STD-1275D
Designed to meet MIL-STD-810 ruggedization and EMI per MIL-STD-461
Optional Interfaces: (depending on XMCs and SBCs selected): MIL-STD-1553, ARINC-429, Video and more
Applications
Mission Computer
Fire Control
Weapons Control
Software Defined Radio
Electronic Warfare
Radar processing
SIGINT/ELINT
MPMC-935x Rugged 3U 5-slot Mission Computer
Reduce your program risk and speed your time to market with the MPMC-935x family of 3U 5-slot rugged integrated information processing system. These leading edge, flexible and rugged processing systems can be readily configured to meet the needs of any military or aerospace requirements, from benign laboratory to harsh avionics environments. The MPMC-935x integrated information processing system provides a complete hardware and software solution.
The MPMC-935x system leverages Commercial-off-the-Shelf (COTS) technology in application-specific requirements to provide a high performance, state-of-the-art computing solution. By utilizing tried and tested Curtiss-Wright COTS products, the MPMC-935x is an affordable low-risk computing system.
The MPMC-935x five slot 3U embedded system supports OpenVPX architecture. It allows up to four single board computers (or XMC carrier cards) and five XMC modules (depending on the chosen SBC) be housed in a rugged forced air-cooled or base plate cooled chassis. The MPMC-935x can be configured to support both NXP Power Architecture and Intel-based SBCs.
System Integration, Engineering, Test Planning & Verification Services
When you have a system integration challenge, reach out to our system design team as early in your program cycle as possible and let a Curtiss-Wright system architect put their system integration expertise to work for you. Our unmatched breadth of system integration capabilities helps to eliminate your design risk to ensure the success of your program's system development, integration, and deployment.
See the Full Scope of Our Services