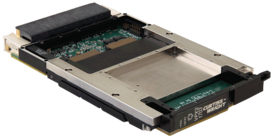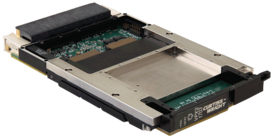 The VPX3-1703 3U OpenVPX NXP Layerscape LS1043A Arm processor card combines the high performance of the quad-core A53 processor with advanced I/O capabilities for low-powered, rugged, SWaP-constrained applications.
Key Features
NXP LS1043A Arm A53 quad-core 64-bit SOC up to 1.6 GHz
Up to 8 GB DDR4 memory
x4 PCIe Gen2 XMC site
Curtiss-Wright's U-Boot, VxWorks 7, and Linux BSPs
NXP Secure BOOT
Applications
Mission computer applications
ISR applications
Controllers
VPX3-1703 3U VPX NXP LS1043A Arm Processor Card
Curtiss-Wright's VPX3-1703 is an OpenVPX-compliant 3U processor that combines the high performance of the NXP Layerscape LS1043A Arm quad-core A53 processor with advanced I/O capabilities. Designed for space-constrained applications, the VPX3-1703 represents low-powered, rugged Arm-based  SBCs.
Arm processing
The challenge of high-density computing is to pack the greatest functionality into the smallest standard form factor, with the lowest power possible while retaining maximum flexibility. In conjunction with its processing power, the VPX3-1703 meets this challenge by offering an impressive complement of I/O capability in order to satisfy the most demanding application needs with a low power footprint.
For applications requiring information assurance, the VPX3-1703 supports NXP's Secure Boot and trust capabilities.
The VPX3-1703's integral high-speed backplane and XMC connectivity allow for multi-GB/s data flows from board to board through the backplane interface and from the backplane to XMC site supporting the acquisition, processing, and distribution of sensor data (such as video, radar, and sonar data). A rich I/O complement includes two Gigabit Ethernet (GbE) ports, four serial channels, up to four output LVTTL discrete digital IO (DIO), up to four input 5V tolerant LVTTL discrete DIO, Universal Serial Bus (USB) 2.0 or 3.0 ports (contact Curtiss-Wright for USB 3.0 support), and an XMC site with 64-bits of I/O mapped to the backplane.
The VPX3-1703 is supported by Curtiss-Wright's U-Boot, VxWorks, and Linux Board Support Package (BSP) and Driver Suites.