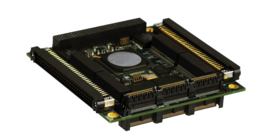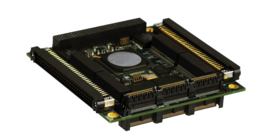 The Parvus SWI-22-10 Rugged 20-Port Gigabit Ethernet Switch PCI/104-Express Card is a Fully Managed switch for computer network systems applications.
Key Features
Rugged Embedded Gigabit Ethernet Switch
Small form factor: up to 20 ports on single 3.6" x 3.8" card
Layer 2 fully managed network switch with Layer 3 static routing capability
Low-power, Energy Efficient Ethernet (802.az) compliant
IEEE-1588v2 Precision Timing Protocol (PTP) support
Qual tested to MIL-STD-810 for wide temperature operation (-40 to +85°C) and high shock/vibration
Applications
Embedded Gigabit Ethernet managed edge network applications
Tactical in-vehicle/airborne LAN switching
Fixed wing / rotary (unmanned) air systems
Network-centric operations / situational awareness upgrades
Defense, homeland security, energy, industrial, oil & gas
SWI-22-10 Rugged PCIe 104 GbE Managed Switch
The Parvus SWI-22-10 is a rugged Commercial Off the Shelf (COTS) Gigabit Ethernet switch card optimized for size, weight and power (SWaP) sensitive embedded military and civilian computer network systems applications. Featuring advanced Layer 2 networking features with up to 20 ports of 10/100/1000 Mbps connectivity, an integrated management processor, low power consumption, and robust carrier Ethernet software features, the SWI-22-10 enables reliable local area network (LAN) switching across extended operating temperature ranges (-40 to +85°C) and extreme shock/vibration for technology refresh and platforms including mobile, tactical, aerospace, and ground vehicle applications. With a compact PCI/104-Express form factor (approx. 3.6" x 3.8") featuring either eight (8) or twenty (20) ports of 1000Base-T Ethernet, the SWI-22-10 is one of the smallest rugged Gigabit Ethernet switches available and an ideal solution for connecting a large number of IP-enabled embedded devices, including computers, cameras, sensors, and command-and-control equipment deployed in manned and unmanned system platforms at the network edge. To enhance reliably, the product features industrial temperature grade components, BGA underfilling, component potting, no moving parts, and optional conformal coating.
This fully managed Layer 2+ switch card supports IPv4 and IPv6 multicast traffic, Virtual Local Area Networks (VLANs), port control (speed / mode / statistics, flow control), Quality of Service (QoS) traffic prioritization, Link Aggregation (802.3ad), SNMPv1/v2/v3 management, secure authentication (802.1X, ACLs, Web/CLI), redundancy (RSTP/ MSTP), precision timing (IEEE-1588v2), port monitoring, IGMP Snooping, and data zeroization. The unit also supports Layer 3 IPv4 / IPv6 unicast static routing for IP routing to attached WAN / radio ports. The SWI-22-10 Ethernet Switch is designed to integrate with open-architecture PCI-104, PCIe/104, PC/104-Plus, PCI/104-Express, EPIC, or EBX systems, as well as non- PC/104 embedded systems, while flexibly supporting either CAT5e cabling or cableless (board-to-board) termination of the Ethernet signals. The SWI- 22-10 is available as a standalone card or pre-integrated into the DuraNET 20-10 switch subsystem. The board is also available pre-integrated in a combined switch/router system (see DuraMAR 5915 3X model) and can also be integrated by the factory with other PC104-based DuraCOR or DuraWORX mission computer subsystems.
Reduce Cost, Risk, and Time to Market with COTS Hardware
Our broad selection of open-architecture, commercial off-the-shelf (COTS) rugged embedded computing solutions process data in real time to support mission-critical functions. Field proven, highly engineered and manufactured to stringent quality standards, Curtiss-Wright's COTS boards leverage our extensive experience and expertise to reduce your program cost, development time and overall risk.
Read the Brochure