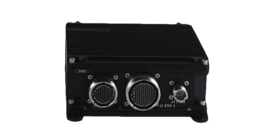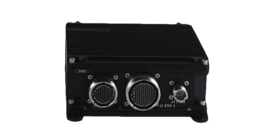 The Parvus DuraNET 20-10 rugged COTS Gigabit Ethernet switch subsystem is optimized for SwaP-C sensitive embedded computer network systems applications.
Key Features
Rugged 20-Port Gigabit Ethernet Switch 
Layer 2+ Carrier Ethernet Software Management 
Size, Weight & Power (SWaP) Optimized: < 112 in3, 4 lb, < 20 W 
Low-Power, Energy Efficient Ethernet Compliant 
IEEE-1588v2 Precision Timing Protocol Support 
Qual Tested to Extreme Environment/EMI Conditions per DO-160, MIL-810G, MIL-461F 
Vehicle and Aircraft Compatible Power Supply (per DO-160, MIL-STD-704F, MIL-STD-1275D) 
IP67 Dust/Waterproof Aluminum Chassis 
Circular MIL-DTL-38999 Connectors 
Applications
Embedded Gigabit Ethernet Edge Networking  
Network-Centric Operations / Situational Awareness 
In-Vehicle and Aircraft LAN Switching 
Fixed and Rotary Wing (Un)manned Air Vehicles 
Tactical Ground Vehicles and Maritime Platforms 
C4ISR Technology Refresh and LRU Upgrades 
Parvus DuraNET 20-10 Rugged 20-Port Gigabit Ethernet Switch
The Parvus DuraNET 20-10 is a rugged Commercial Off the Shelf (COTS) Gigabit Ethernet switch optimized for size, weight, power and cost (SWaP-C) sensitive embedded computer network applications. Featuring advanced Layer 2+ switching with 20 ports of non-blocking 10/100/1000 Mbps connectivity, an integrated management processor, and extremely low power consumption, the DuraNET 20-10 enables reliable local area network (LAN) switching across extended operating temperature ranges (-40 to +71°C) and extreme shock and vibration conditions. For both new platforms and technology refresh programs, the switch features MIL-DTL-38999 connectors in a sealed IP67 (dust and water proof) aluminum chassis. The unit serves as an ideal solution for connecting a large number of IP-enabled embedded devices, including computers, cameras, sensors, and command-and-control equipment deployed in digital networked architectures. To enhance reliability, the unit features no moving parts, a near cable-less internal design, industrial temperature grade components, EMI filtering, and an isolated DO-160/MIL-STD-1275/704 power supply that protects against vehicle voltage surges, spikes and transients.
This fully managed, Layer 2+ GbE switch provides a powerful set of carriergrade networking features, including support for IPv4 and IPv6 multicast traffic, Virtual Local Area Networks (VLANs), port control (speed/mode/ statistics, flow control), Quality of Service (QoS) traffic prioritization, Link Aggregation (802.3ad), SNMPv1/v2/v3 management, secure authentication (802.1X, ACLs, Web/CLI), redundancy (RSTP/MSTP), precision timing (IEEE-1588v2), port monitoring, IGMP Snooping, Built-in Test (BIT), and data zeroization. The unit also supports Layer 3 IPv4/ IPv6 unicast static routing for IP routing to attached WAN and radio ports. The DuraNET 20- 10 is based on open architecture, modular embedded technology that can also be factory configured in combo-configurations with CurtissWright's Parvus DuraMAR IP router subsystem (see DuraMAR 5915 "3X" Series) and/or select DuraCOR mission computers as well as DuraWORX systems – to support Line Replaceable Unit (LRU) consolidation. The unit is qualification tested to extreme MIL-STD-461F and RTCA/DO-160G EMI/ EMC and MIL-STD-810G and DO-160G thermal, shock, vibe, humidity, altitude, and ingress conditions, making it an ideal rugged COTS solution for C4ISR technology refresh and situational awareness upgrade programs requiring highly reliable in-vehicle managed Ethernet switching.
Reduce Program Costs with Curtiss-Wright System Solutions
Curtiss-Wright delivers complete system of systems integration and support services that reduce interoperability risks, lowers program costs and accelerates time to market. Our system solutions range from air data computers, to data recording and storage systems, networking and communications, mission computers, and video management systems.
Read the Brochure